REMINDER - Tomorrow is Picture Day, Wednesday Oct 4th
Reminder that there is NO SCHOOL on Friday, October 6th and Monday, October 9th. Enjoy the extra long weekend!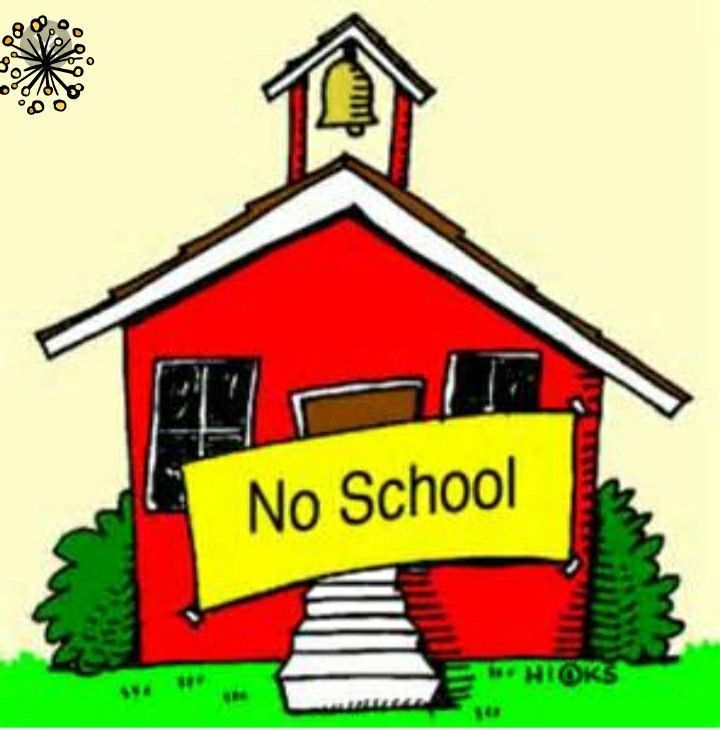 Subject: Continuation of Advisory Committee for 7/8 Transition Dear WMRSD Family Members, We are writing to inform you about the continuation of the Advisory Committee to the School Board for a transition within our district. This transition involves studying the impact of relocating all 7th and 8th graders to Lancaster Elementary School while moving all Prekindergarten students to Whitefield School. We want to share the rationale behind this study for proposed change: Aligning Programs: Our goal is to create consistency and ensure a high-quality educational experience for all students by aligning programs between the two elementary schools. This will result in a more streamlined curriculum and the sharing of valuable resources. Inability to Staff Middle School Positions: Addressing the ongoing challenge of staffing middle school positions at both schools is a top priority. Staffing shortages can impact the quality of instruction and the overall learning experience for our students, as well as placing undue stress on our existing staff. Early Childhood Model: We recognize the importance of early childhood education and the need to provide our youngest learners with a strong foundation. Establishing an early childhood model at Whitefield Elementary will offer a nurturing environment for our pre-kindergarten children. Possible Fiscal Impact: This study will assess the potential fiscal impact of these changes to ensure responsible fiscal management. We are committed to allocating resources efficiently to support our students' educational needs. As this study progresses, we emphasize our commitment to transparency and open communication. Your insights, concerns, and suggestions are invaluable in shaping the final decisions. We will keep you informed about the study's progress and the timelines for gathering your input. Thank you for your ongoing support and involvement in our school community. Together, we will work towards providing the best educational experience for all our students. Best, Marion 7/8 Advisory Committee to the Board Members established 2022: Mike Cronin, Mike Curtis, Nichol Jones, Jessica Kenyon, George Brodeur, Beth Ridley, Beth Lufkin, Rob Scott, Chris Eaton, Marion Anastasia, Evelyn Flynn (Board Rep), James Akerman (Vice Chair), Scott Holmes (Chair)
Early Release - Wednesday Sept 27. Dismissals start at 11:20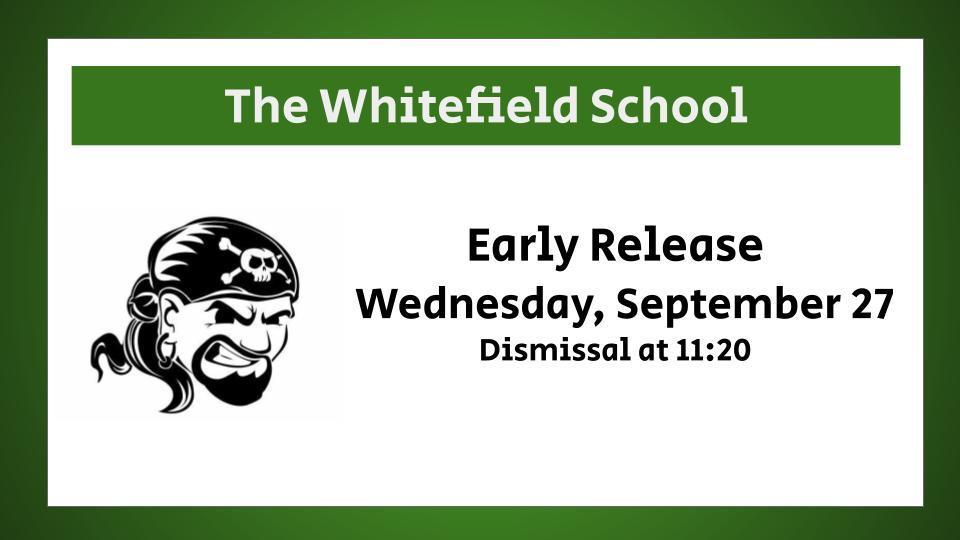 Scholastic Book Fair October 16 - 20 8:30 am - 1:30 pm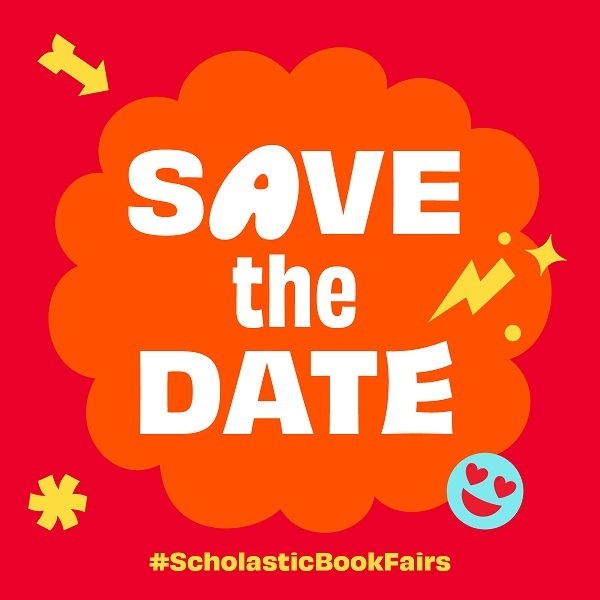 Mark your calendars as fall picture day is quickly approaching. Please note we are using a new photography company this year. Staff and families please, please, please review the details of pre ordering, picture day expectations and ordering after picture day as things may have changed from the previous company. All students will be photographed but purchasing photos is optional.
As we settle into routines the bus schedules have been fine tuned. Please review your students routes for any changes. **PINK LINE Bus 121 will consistently be going to Base Station Rd EVERYDAY **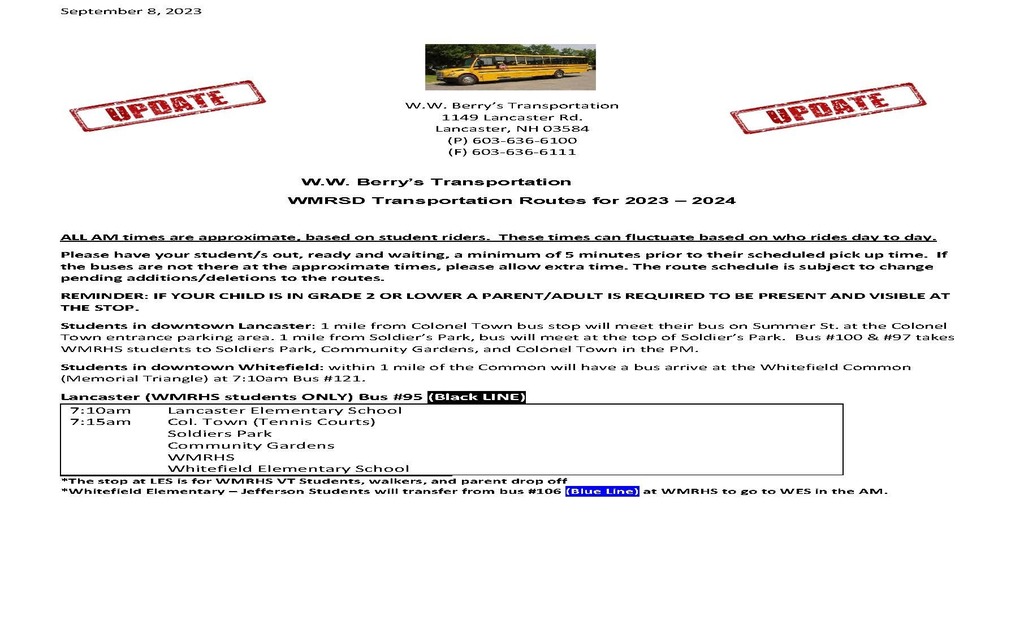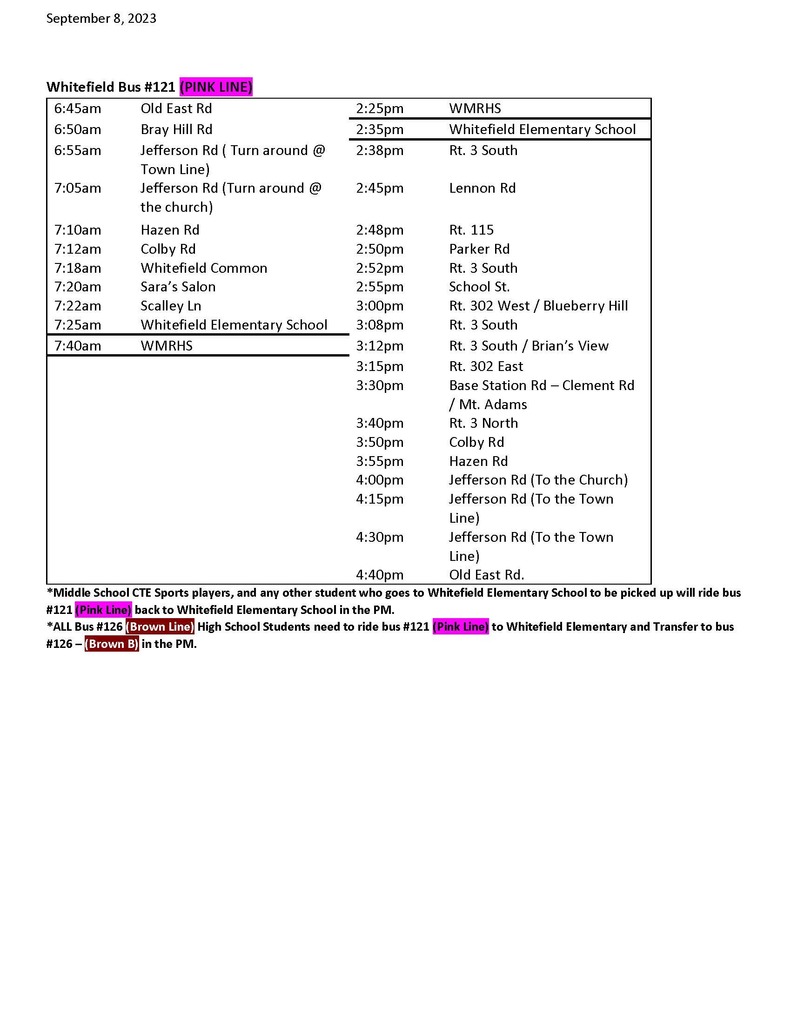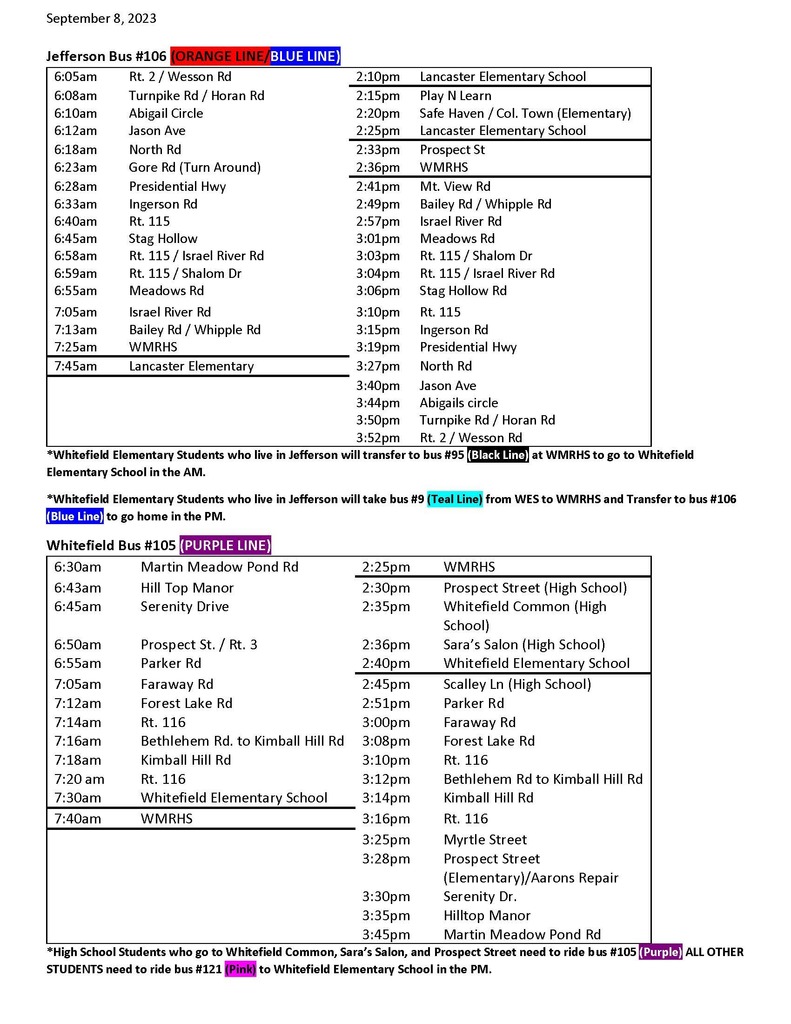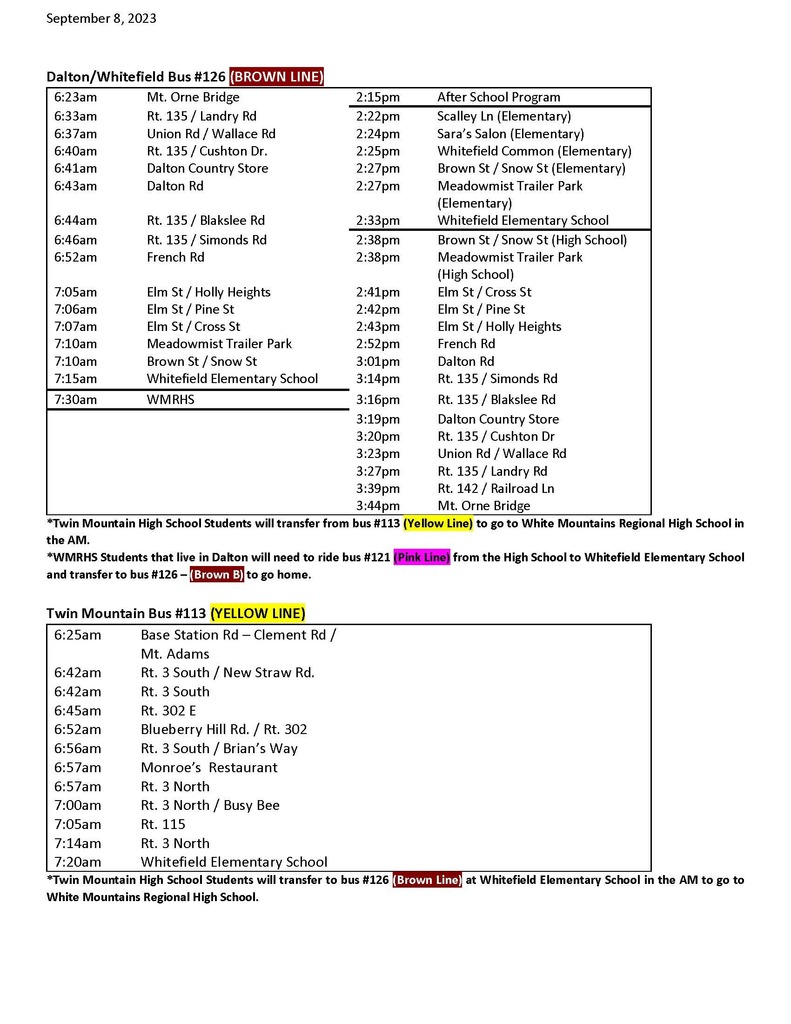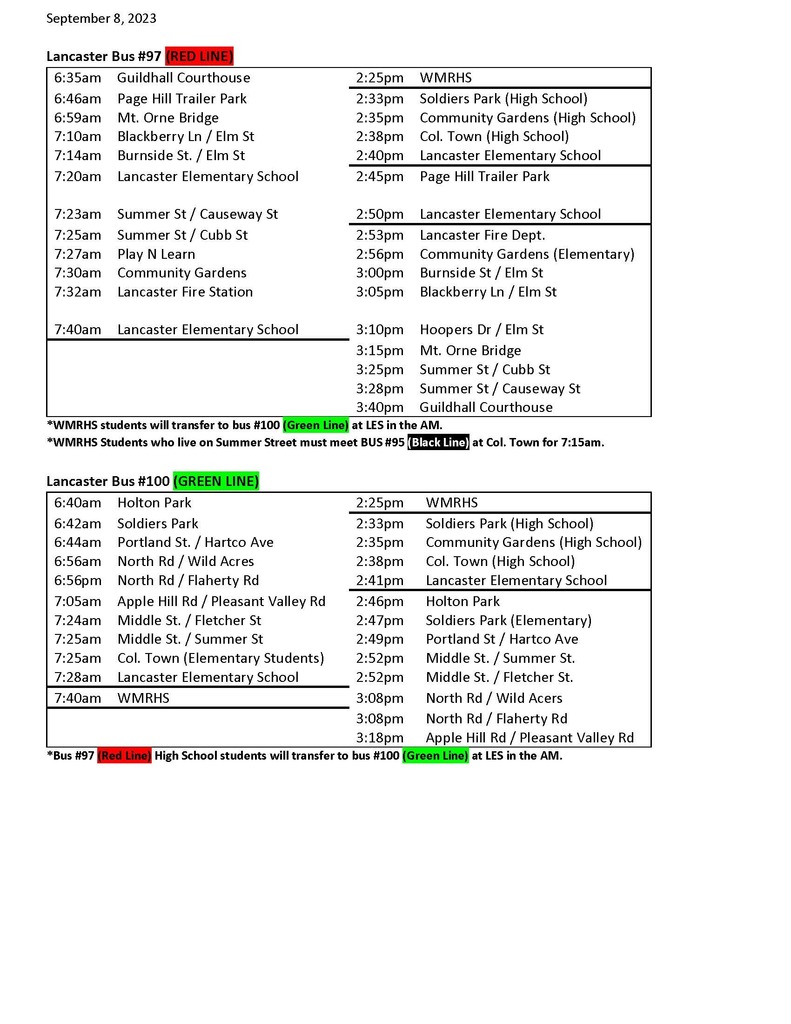 Join us in celebrating getting BACK TO SCHOOL! Find out more about volunteering at WES at the fingerprinting station and about the WES Food Bank. Hosted by the WES PTO. Free event - donations accepted. RSVP:
https://forms.gle/HDmX2piC3C4aeWrg6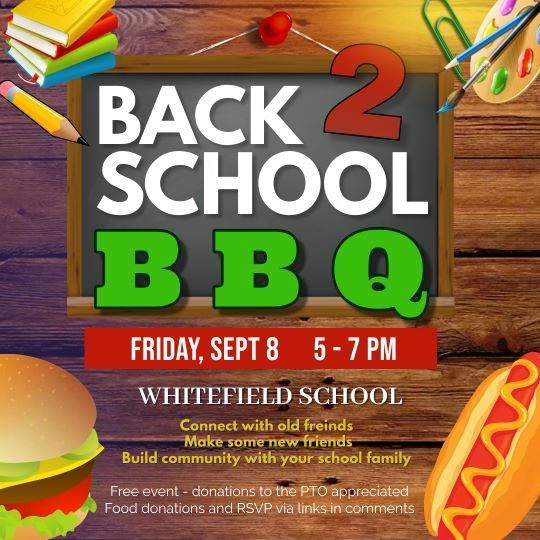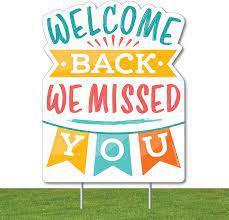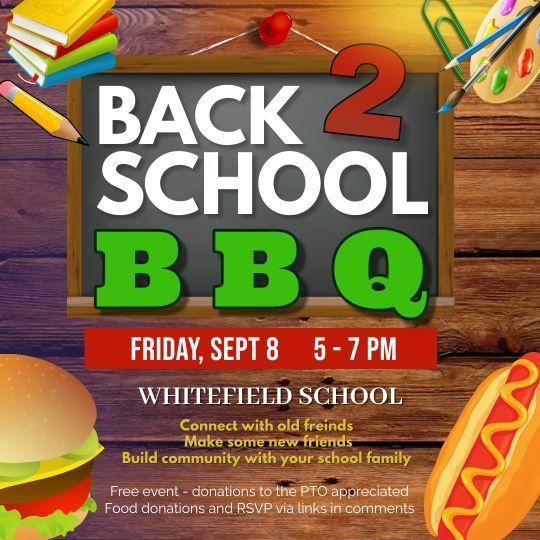 Reminder that if you haven't made bus arrangements for your student it needs to be done ASAP. If you didn't fill out the transportation survey the bus company might NOT be expecting your student on their bus. Please contact them to determine bus/routes and then let school now your child's plan. WW Berry 603-636-6100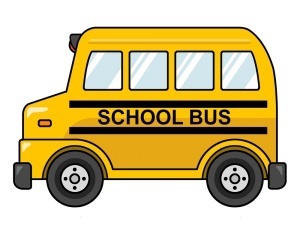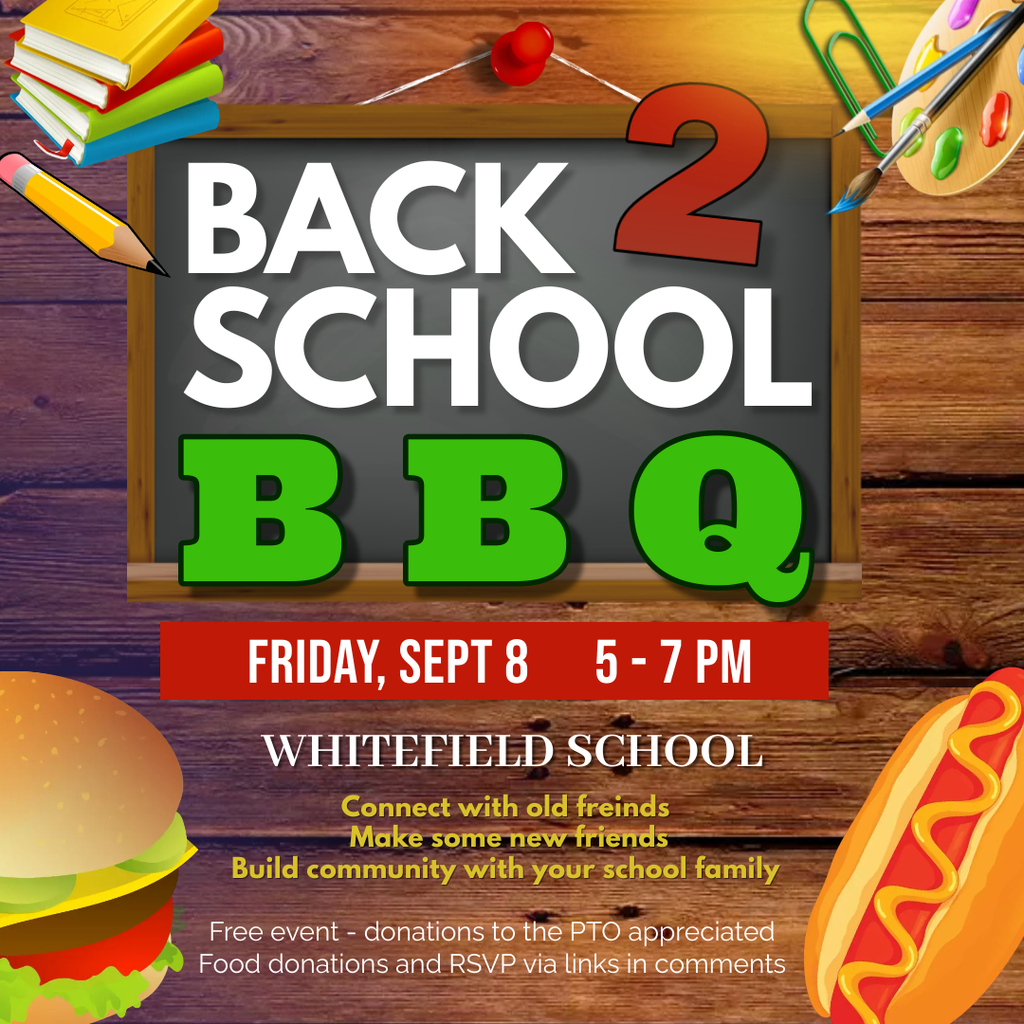 Bus Routes:
https://5il.co/23aus
Attached you will find the link for WW Berry Bus's routes for the 23-24 school year. Please review and contact the bus company if you have questions about routes or times. If you did not fill out the transportation survey you MUST call WW Berry so they know to expect you child on the bus EVEN if they road the bus last year. And then let the school know what bus your student will be riding and when. Enjoy the last week of summer vacation! Can't wait to see everyone back at school on Sept 5th!
The WES Middle School CTE and Unified Arts sign ups are now available. Please check your email for details.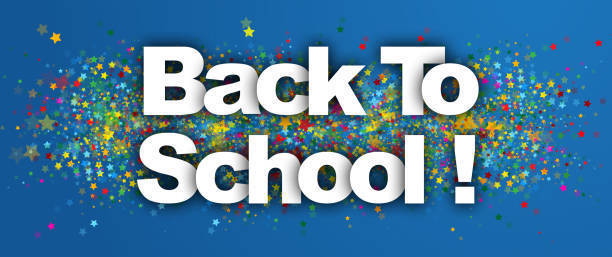 MIDDLE SCHOOL SUPPLY LIST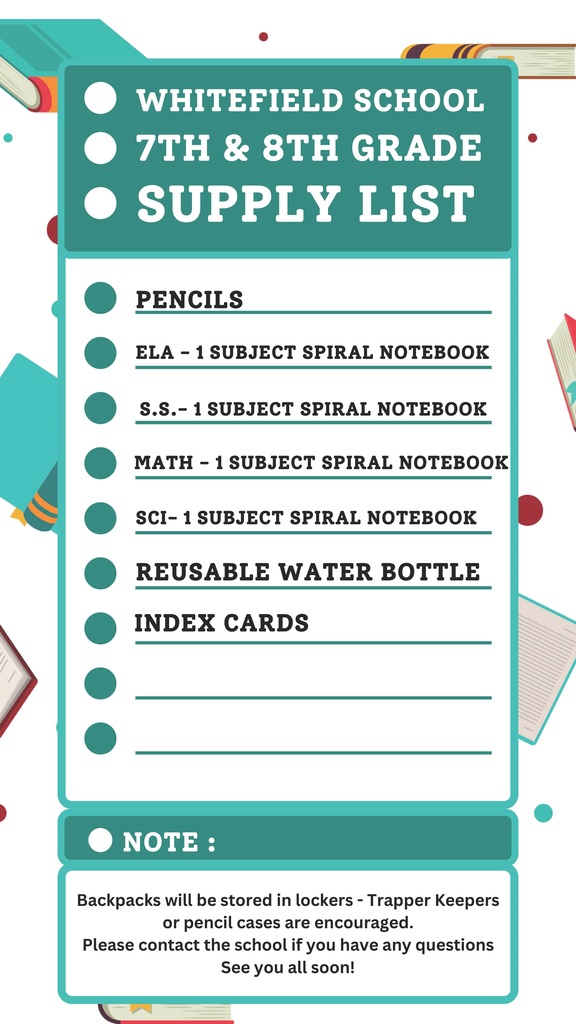 REMINDER | School Supply Pick-up TODAY and TOMORROW at Whitefield Library. Today 4-5:50pm and Tomorrow 11am-1pm.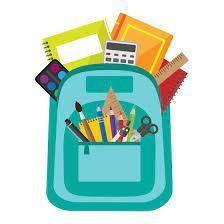 Sign up to get your supplies! Pick up days are Monday, Aug 14th 4-5:30 pm and Tuesday, Aug 15th 11 am-1 pm at the Whitefield Public Library. Sign ups are open until Aug 7th.
https://forms.gle/dETTYgegCaz6hrBC6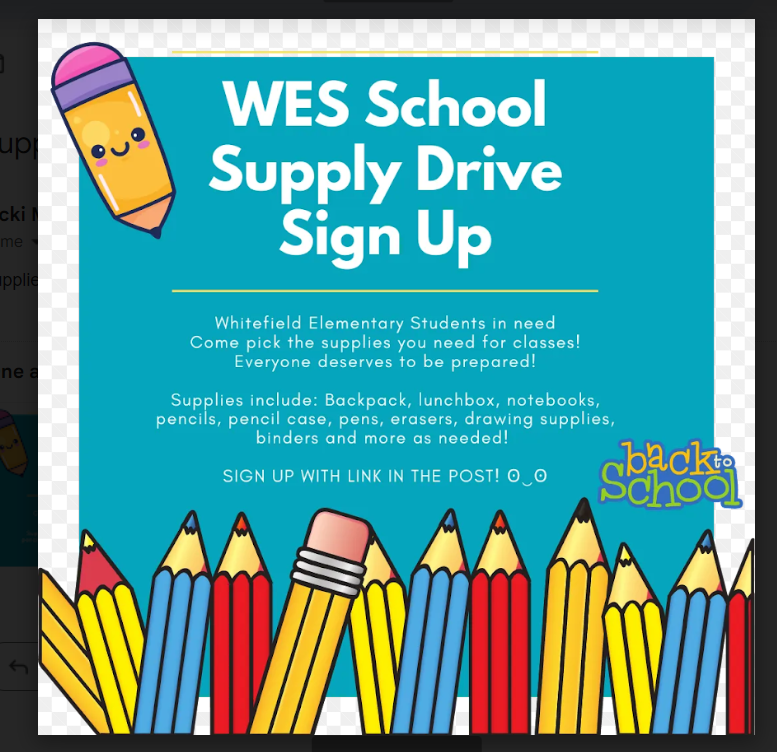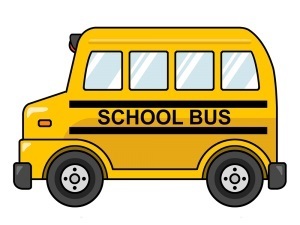 If you are interested in receiving items from the supply drive click the link to sign up. Pick up days are Monday, Aug 14th (4 - 5:30pm) and Tuesday, Aug (11am - 1pm) at the Whitefield Public Library. Sign-up:
https://forms.gle/iq4qQzSsHWodZs7y6