MS Athletic Update: Tomorrow's alpine race at Cranmore has been cancelled due to weather conditions.

MS Athletics Update: The sports bus is departing WES tomorrow at 2:45 with all of the basketball teams and wrestlers. They are doing a drop and pick up at WMRHS. Then processed if on your LES to drop off Team 2 before going to Groveton.

Do you know a family who is facing crisis due to financial hardship? Check out the Family Resource Center.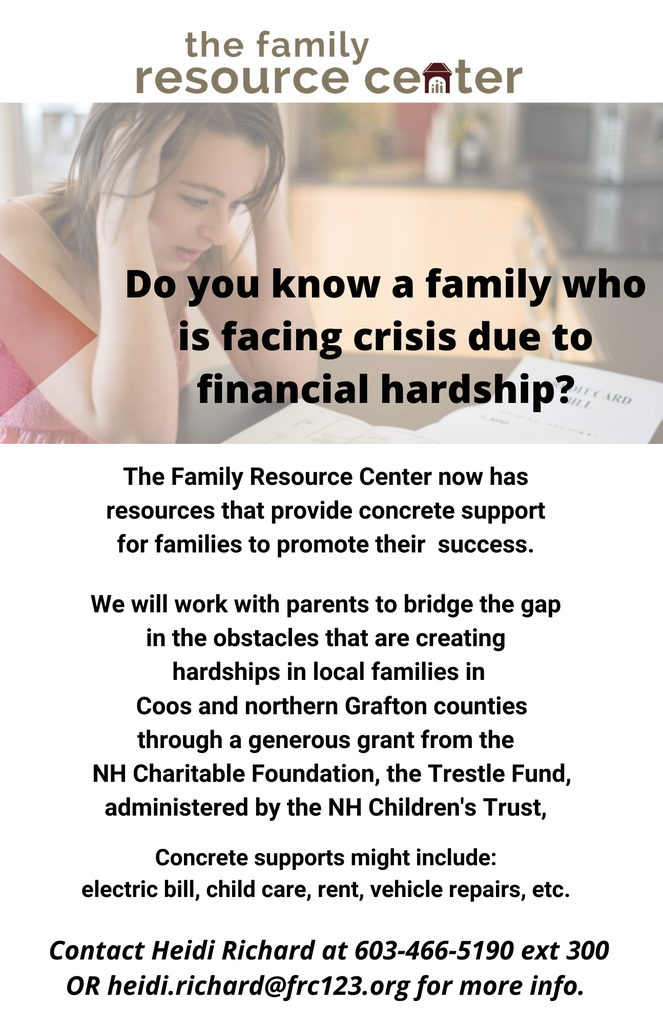 Check out the February edition of Music Notes!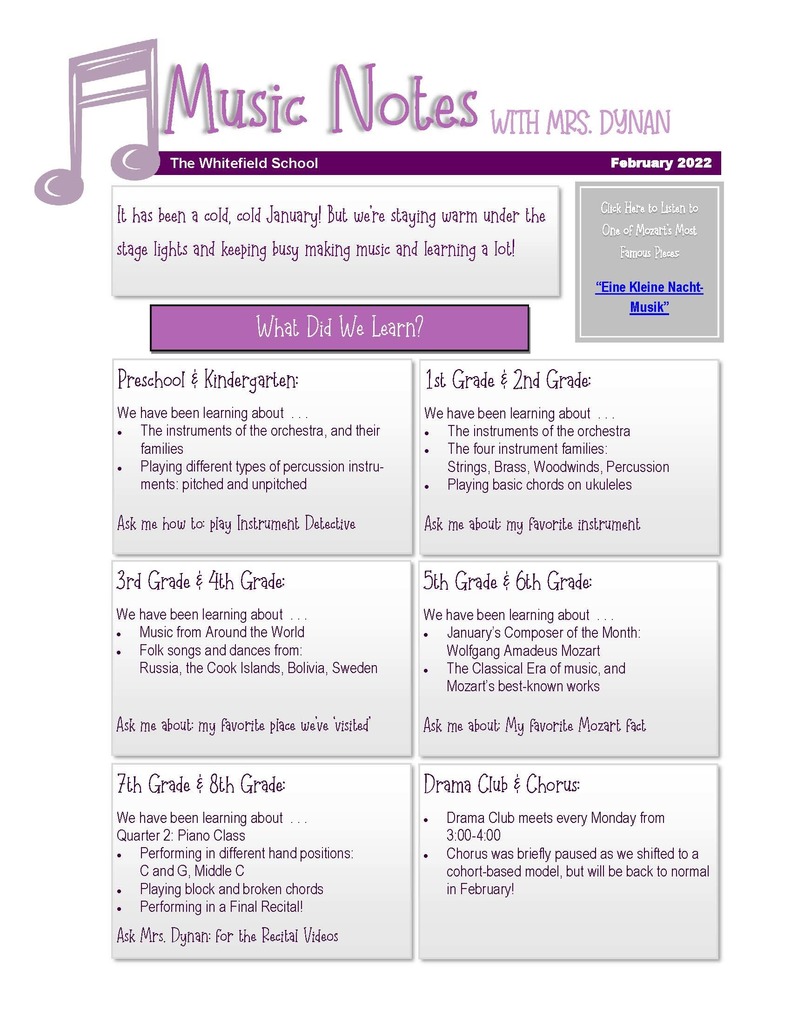 WES Chorus Update: Junior Chorus has been cancelled for today, Tuesday, February 1st. Please call the office with after school plans for your child. Thank you, Mrs. Dynan

Here are this week's spirit wear updates! Full-Zip Hoodies on Sale Our inventory of full-zip hoodies was just refreshed in both youth and adult sizes and we've slashed the price by $10! This week only, all full-zips just $34.99. There is a custom ad below and here is a direct link to view all of your full-zip options:
https://1stplacespiritwear.com/collection/60008/?style=Full+Zip
Teachers' Gear is Back at a Special Price We've received many requests to add the "Teachers" tab back to the site navigation menu. We've done that as well as dropped the price on all teacher-themed tees and hoodies! Teachers' tees are now just $19.99 and hoodies are $34.99. The direct link to them is:
https://1stplacespiritwear.com/collection/60008/?type=Teachers
Store link:
https://1stplace.sale/60008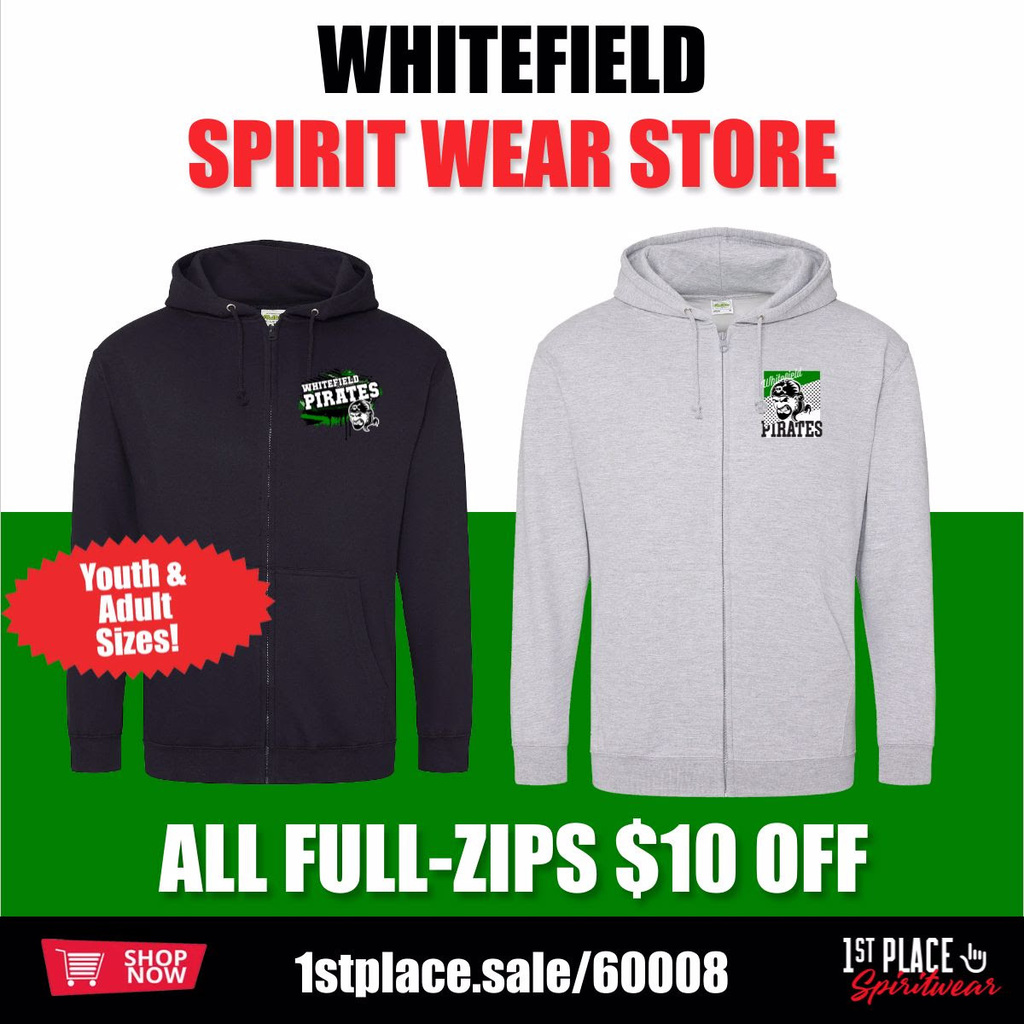 On Friday, 1/28, the WMRHS traveled to Cannon to race GS from the top of the Taft Training Slope. The team competed against Lin-Wood, Littleton, Profile, Moultonborough, Derryfield Academy, Woodsville, Berlin and Gorham and there were 126 racers! The 2 run GS was spread out through the day and the course was reset for the 2nd run. Savannah Stone (Run 1 - 49.19s, Run 2 - 53.28s) took top team honors with her 16th place finish. Katryna Dube (54.08s, 58.29s) and Jocelyn Wyman (54.52s, 58.16s) stepped up and laid down amazing runs for 24th and 25th place, only 0.31s separating the two. Yonah Friedman (1:01.29s, 1:06.62s) finished with a smile in 32nd place. Abigayle McCusker's first run was good for 18th place, but she did not finish her second run. The Girls took 4th place for the day! The boys team took 6th place for the day. Will Stone (46.44s,52.77s) took 13th, followed by Alex Harden (49.25s, 51.7s) in 16th place. Their runs were great to watch, Will besting Alex in run 1, with Alex taking the lead in run 2. Nick Russo (1:09.09, 1:10.03) in 53rd and Eli Carrier (1:09.14, 1:10.90) in 54th were only 0.05s apart after the first run! The boys team are pushing each other to get faster! Our next race is at Crotched Mountain on Friday 2/4! Thanks everyone! Amanda Garneau Photos Nick Russo in the GS start gate Eli Carrier in the GS start gate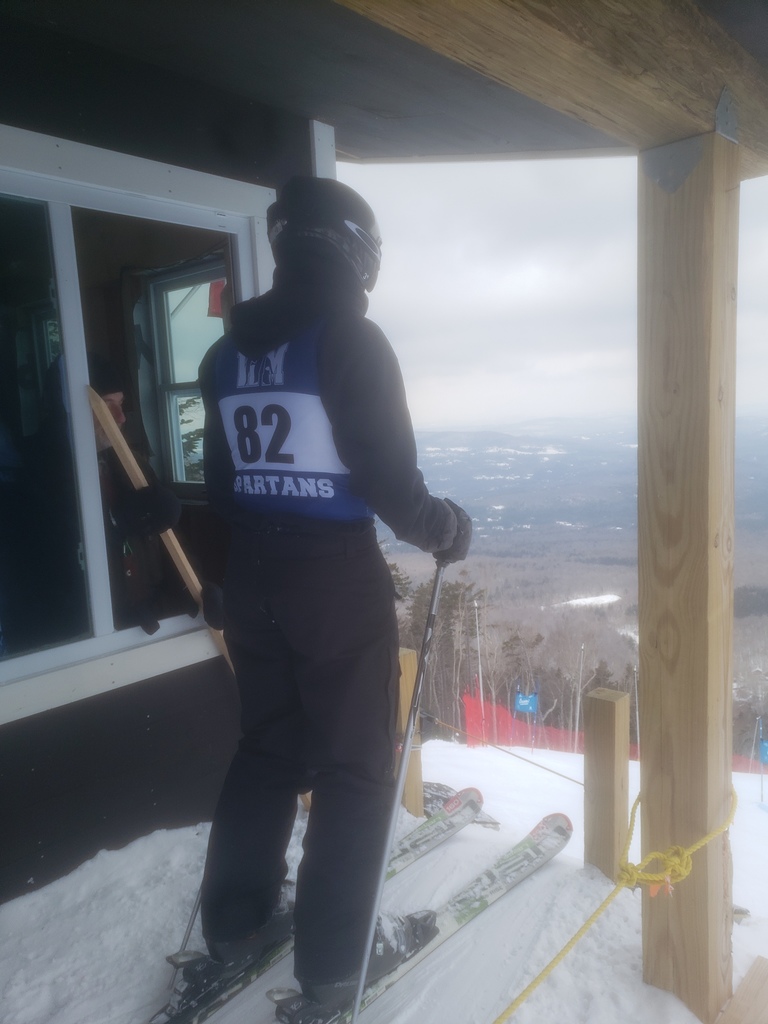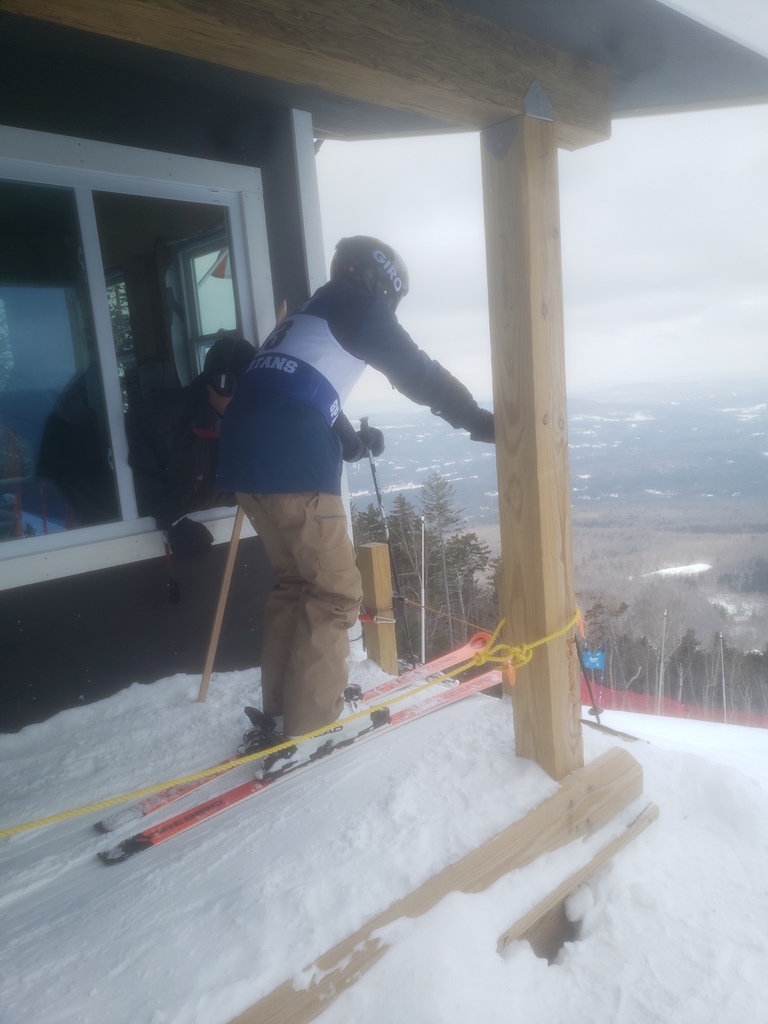 MS Athletic Schedule - Week Ending - 2-4-22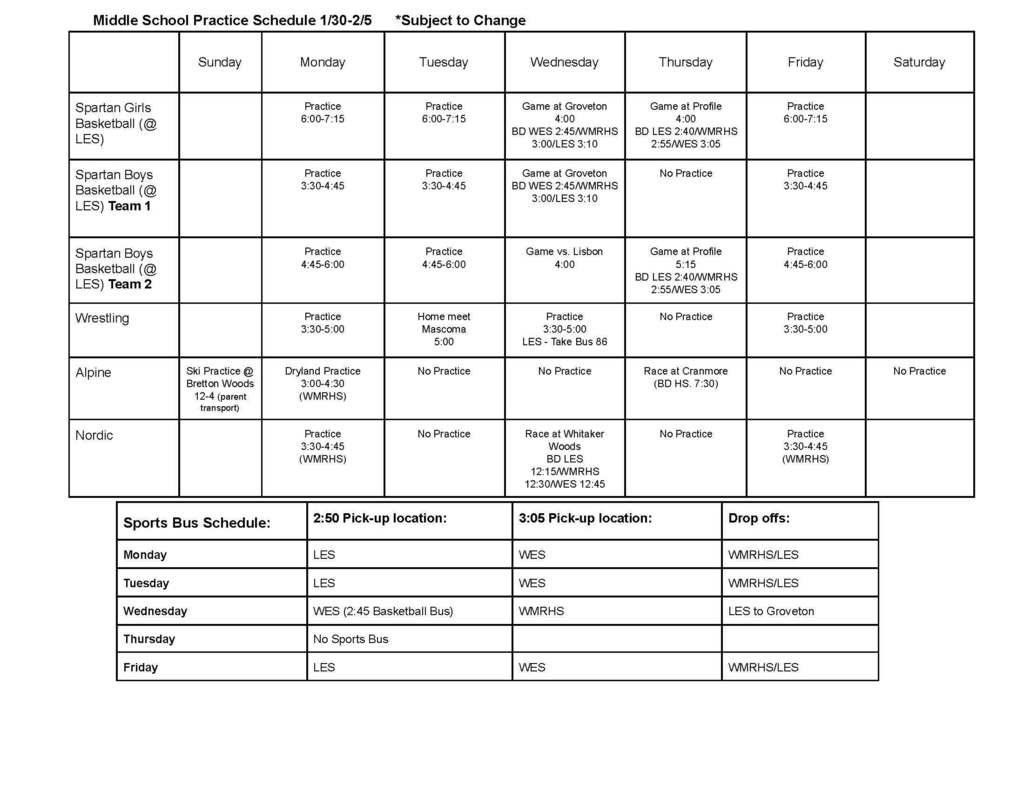 The Whitefield School Personal and Business Ads for Yearbook Ad Space Now on Sale! Our yearbook relies mostly on ad sales to cover the cost of yearbooks for the school. If you would like to support our yearbook with a business ad, please see below for size and price options. If you are interested in placing a personal ad for your 8th grade child, I have included some directions and options for you. You may design the ad and send me a .jpg, or you can explain what you would like for the ad. I can design it for you using various backgrounds, fonts, etc. and then email you the proof for final approval. Please email me with questions:
mcote@sau36.org
. Ad Due Date: March 31st All ads should be submitted no later than March 31st. Thank you for your support!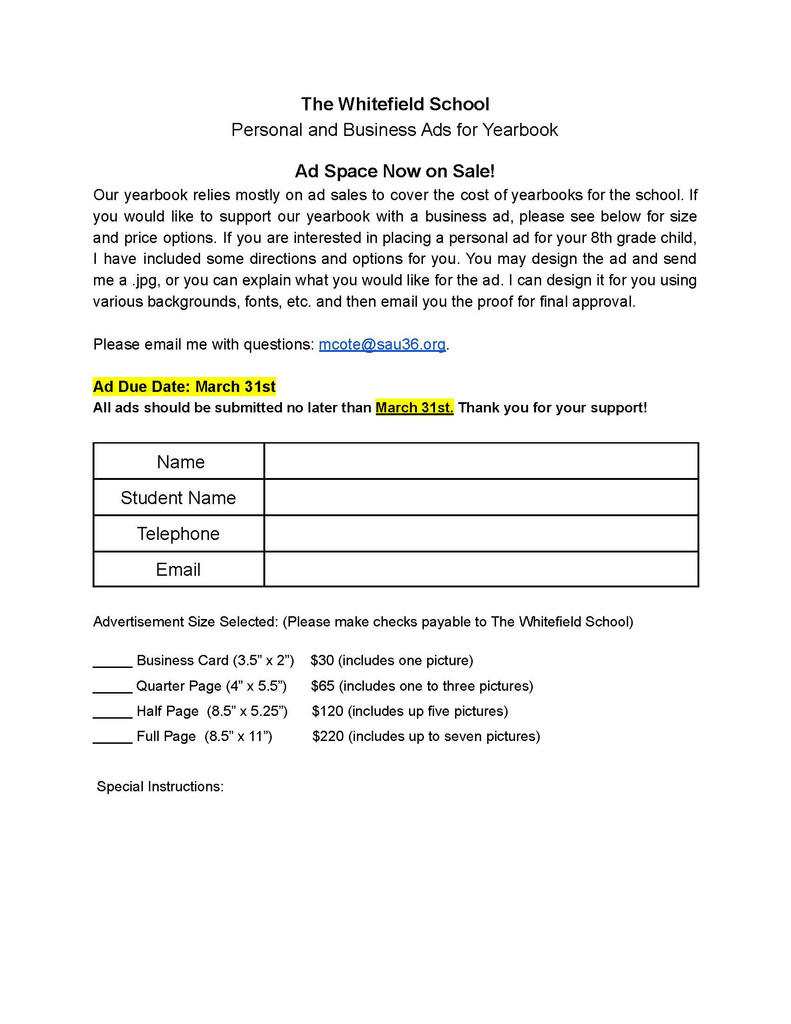 February Meal Calendar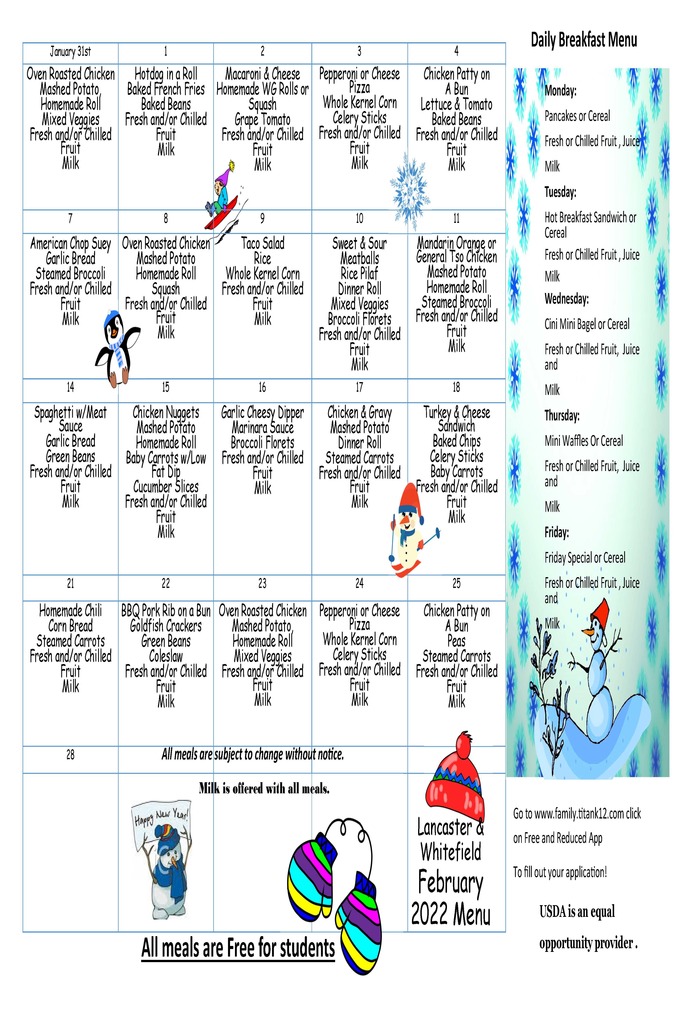 Yesterday the Middle School Alpine Ski Team traveled to King Pine to compete against Lin-Wood, Bartlett, Kingswood, Kennett, and Moultonborough Academy in both GS and Slalom. The day started at -24F measured at the Whitefield airport and slowly rose throughout the day, peaking in the single digits. The girls team took 4th place in the slalom to start the day. Carrington Tetreault (Run 1 - 42.97s, Run 2 - 43.99s) charged the course and took 10th place. Sasha Hamilton (52.92s, 52.95s) threw down almost identical runs for 23rd place. Isabelle Antonucci (53.32s, 54.79s) was 3rd for the team, placing 25th. Esra Celikel (58.66s, 59.04s) and Clare Smith (1:01.64, 1:02.39) brought home 31st and 32nd place. This course has extreme transitions from steep to flat in the last few gates and is situated directly underneath the chairlift, making it both challenging and easy to observer. 1/27 King Pine Girls SL The boys team rocketed through the slalom course, bringing home 2nd place, only 4 points shy of Lin-Wood. Will Stone (32.53s, 32.66s) skied his runs consistently for his 2nd place finish! Alex Harden (33.49s, 34.94s) was strong in the gates and finished in 4th place. Andrew Harden (37.17s, 38.45s) celebrated his birthday with 12th place. Oliver Brewer in 15th (40.40s, 40.31s), Dexter Lawson in 21st (45.56s, 45.13s) and Carson Miller in 27th (48.99s, 48.91s) were all able to read the terrain and all skied slightly faster 2nd runs, which was uncommon today! 1/27 King Pine Boys SL After a nice warm lunch break, GS gates were set and the crowd of spectators grew. The girls team placed 6th, led again by Carrington (42.96s 43.69s) in 17th place. Isabelle (51.38s, 50.44s) was 2nd for the team in 28th place. Clare (53.38s, 52.74s) took the 3rd spot in 32nd. Esra (54.49s, 54.56s) and Sasha (55.97s, 54.03s) rounded out the team finish in 34th and 35th places. 1/27 King Pine Girls GS The boys took 3rd place, only 3 points out of 2nd place in a close battle with Kingswood. Will (34.45s, 34.78s) found speed and consistency again with his 3rd place finish. Alex skied fast and aggressively for 11th place. Oliver Brewer (38.00s, 39.25s) showed his speed and took 13th place. Carson Miller (42.60s, 44.73s) powered through for 22nd place followed by Dexter Lawson (45.18s, 44.83s) charged the course and took 28th place. Andrew's first run (39.75s) placed him 15th, he did not start (DNS) his 2nd run. Both teams are so exciting to watch, each race, each run they get better! 1/27 King Pine Boys GS Local photographer, Ken Watson was at the Kanc Classic on Monday night! You can view the photos and purchase prints here:
https://www.kenwatson.net/Lin-Wood/2022-01-24-Inaugural-Middle-School-Kank-Classic-Ski-Race
I believe every racer has at least one great action shot! His camera is much better than mine. The Middle School will race again on Thursday 2/3 @ Cranmore. Thanks everyone! Coaches Max and Amanda Garneau Photos: The girls team displaying their balance skills. Andrew Harden in the slalom start gate.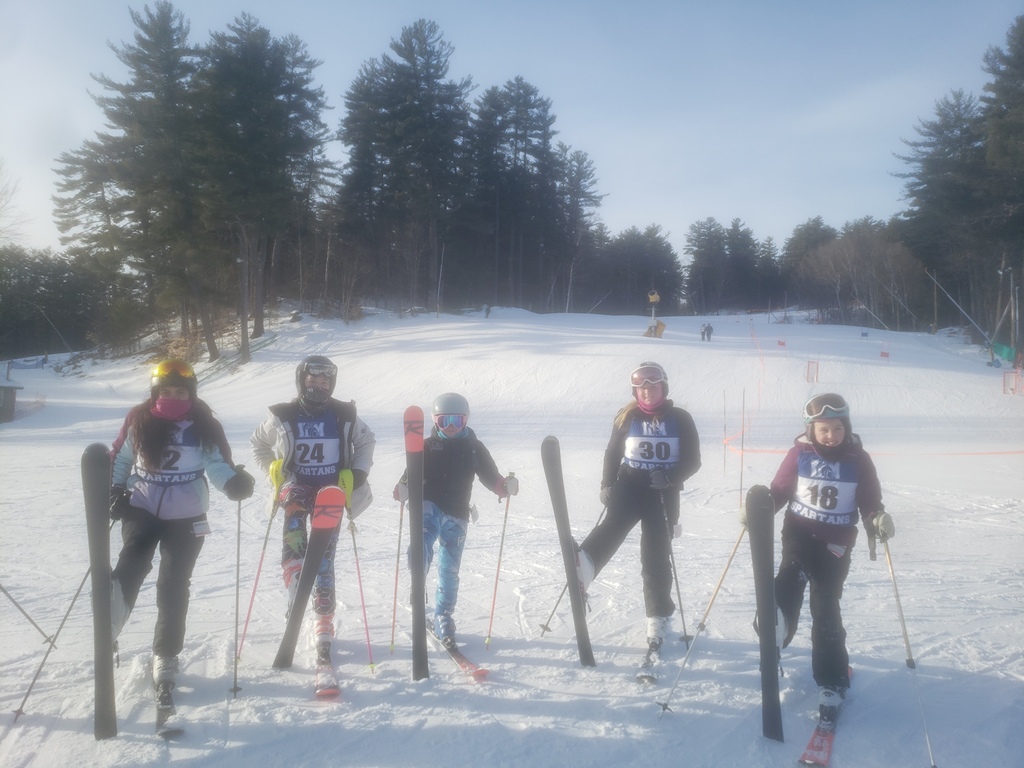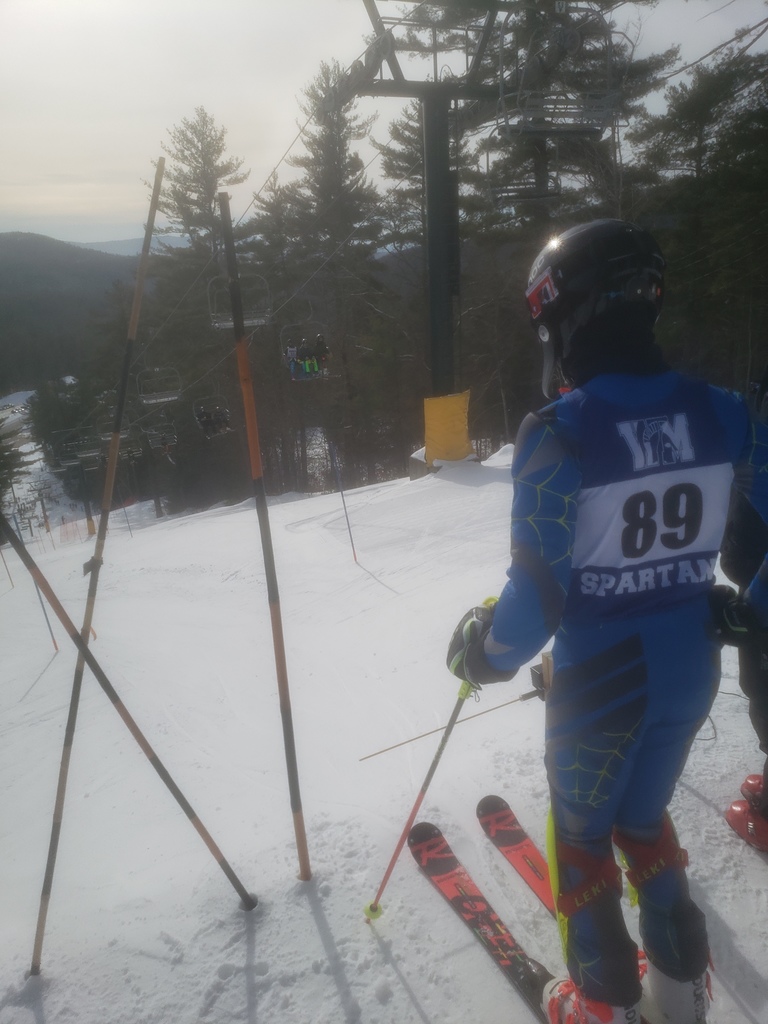 WES Daily Operations Update 1/27/22 Good Afternoon WES Families, Based on our current data we are ready to reinstate the few remaining activities and return to our "regular" 21-22 operations. On Monday, January 31st we will: return to breakfast service in the cafeteria, have grades seven and eight return to lunch in the cafeteria, return grade one and two to their earlier UA configuration, reinstate our choruses and band meetings. As a result of losing half of our Winter Wednesday Program window and some continued staffing challenges, we will not be running the program at all this year. The Cannon group will finish their last few weeks and we will be planning a schoolwide Winter Carnival for all students during the week of February 21. Mrs. Armstrong will be in contact with families who paid for riding lessons at Matthew Roy Stables. I want to thank you for your support and patience while we worked through the last two weeks. We will continue daily mitigation practices and monitor our absenteeism. Should we see cases begin to spike we will reach back out with operational adjustments.

MS Athletic Update: Practice for MS Girls Basketball has been cancelled for today, Thursday, January 27th. Because we will not be having MS boys or girls basketball practice the sports bus has been cancelled.

MS Athletic Update: Practice for MS Boys Basketball (Teams 1 &2) has been cancelled for today, Thursday, January 2th.

WES Updates - January 25th Cannon Mountain Ski & Ride Program Update - Wednesday, January 26th The Twin Mountain & Whitefield Recreation programs have decided to postpone tomorrow's ski and ride program at Cannon Mountain due to the predicted temperatures. Thank you for your understanding and flexibility. WES Chorus Reminder - Program Paused January 25th & January 27th Just a friendly reminder that the WES Chorus Program is paused for today, January 25th and for Thursday, January 27th.

2022 Annual Valentine Fundraiser Hosted by NJHS Realistic wooden roses delivered to friends at Whitefield School on 2/14! Cost is $2.00 per flower or buy 10 get 2 free (1 dozen for $20) Order forms will be sent home with your child this week and need to be returned with payment no later than 2/9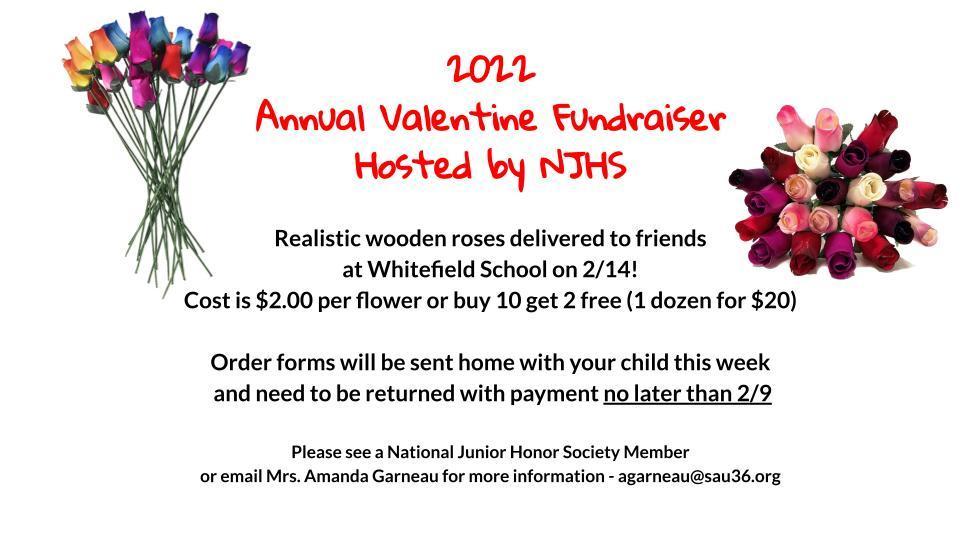 Last night the Middle School team traveled to Lincoln, NH to race in the 1st Annual Middle School David Dovoluk Memorial Slalom Race at the Kanc Recreation hill. After 10 years of high school only races, middle schools from Lin-Wood, Bartlett and White Mountains were invited to compete in a 2 run slalom under the lights. Both White Mountains teams were cheered on by a small yet supportive crowd for their 3rd place team finishes. Alexander Harden brought home the bronze, leading the boys team with his 3rd place podium finish (Run 1 - 27.31s, Run 2 - 26.55s). Oliver Brewer laid down two clean runs for 4th (27.95s, 28.60s) followed by William Stone in 14th place (25.31s, 58.8s). Andrew Harden disqualified his first run but came back with a strong 27.86s second run. Dexter Lawson disqualified his second run after a heartbreaking tipped gate in his first. Carrington Tetreault conquered the rope tow and brought home 4th place for the team (Run 1 33.01s, Run 2 - 33.34s) Teammates Isabelle Antonucci followed in 10th (39.27s, 40.98s), Sasha Hamilton in 11th(42.68s, 42.29s), Clare Smith in 12th (44.27s, 43.13s) and Esra Celikel in 13th (48.06s, 46.72s). These kids finished an unforgiving and challenging slalom course with smiles and seemingly endless hot chocolate! It was a great event and we are already excited for next year. The team races again this week on Thursday 1/27 @ King Pine. Photo Credit - Savannah Stone Boys Team (L to R) Oliver Brewer, Dexter Lawson, Will Stone, Alex Harden, Andrew Harden. Girls Team (L to R) Sasha Hamilton, Clare Smith, Isabelle Antonucci, Esra Celikel, Carrington Tetreault.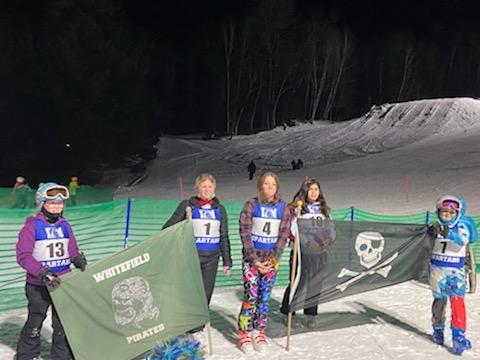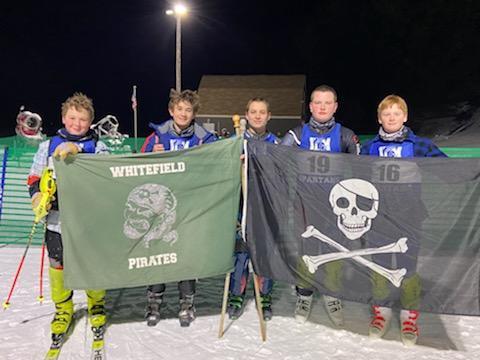 A Message From WW Berry Transportation Good Afternoon, Starting Monday 1/24/2022 and continuing until Friday 1/28/2022 there will be no bus #133 in the afternoon. The Students that ride bus #133 will need to do as follows. WES: All Students who ride bus #133 home need to take bus #90. This change may cause some of your students to arrive home earlier or later than their normally scheduled arrival. We want to thank you all for being patient with us as we work through the nationwide driver shortage. W.W. Berry's Transportation
wwberrytransportation@outlook.com
603.636.6100


On Friday 1/21 temperatures at Cannon were -15F. The bitter cold didn't stop WMRHS from competing against Littleton, Woodsville, Lin-Wood, Profile, Berlin and Gorham in slalom on the Taft Training Slope at Mittersill. Though Profile was the only team with 4 finishers and an official team score, the WMRHS girls team took 2nd! They fought hard both individually and as a team. Savannah Stone placed 11th (56.43s, 59.73s) followed by Madison Armstrong in 13th (1:06.09, 1:05.49) and Katryna Dube in 16th (1:07.85, 1:06.86). Jocelyn Wyman and Abigayle McCusker did not finish one of their runs. They showed their grit as they both got back up and fought to the finish in their other runs. Both these girls, and the whole team have experienced the heartbreaking and triumphant whirlwind that is slalom racing. The boys team placed 5th. Will Stone placed 8th in the morning race (45.43s, 45.73s) Alex Harden took 12th (48.65s, 50.9s) followed by Nicholas Russo in 35th (1:18.06, 1:26.50) and Elijah Carrier in 39th (1:25.98, 1:30.38). It was 20 degrees warmer by lunch, and at 5F the course was reset for the teams to race another slalom. The girls team finished 3rd with an official team score. The single run placed Savannah in 11th (58.21s), Madison in 13th (1:03.13), Katryna in 16th (1:06.79) and Jocelyn in 24th (1:26.34). The boys placed 5th with Will cranked up the speed and found himself in 5th place (44.99s), Alex caught up to the skier in front of him at the finish line for 16th (54.83s), Nick in 37th (1:22.58) and Eli in 38th (1:27.44) rounded out the team results. Our next race is on Tuesday 1/25 at 2pm, The David Dovoluk Memorial Slalom Race at the Kanc (10 Louis Ln, Lincoln, NH). We will race a GS only race at Mittersill on Friday 1/28. It's going to be a great week of ski racing! Thanks everyone! Amanda Garneau Alpine Ski Coach WMRHS Photos - Madison Armstrong in the slalom gates fighting hard for 13th place. Alex Harden chasing down a Woodsville skier for 16th place.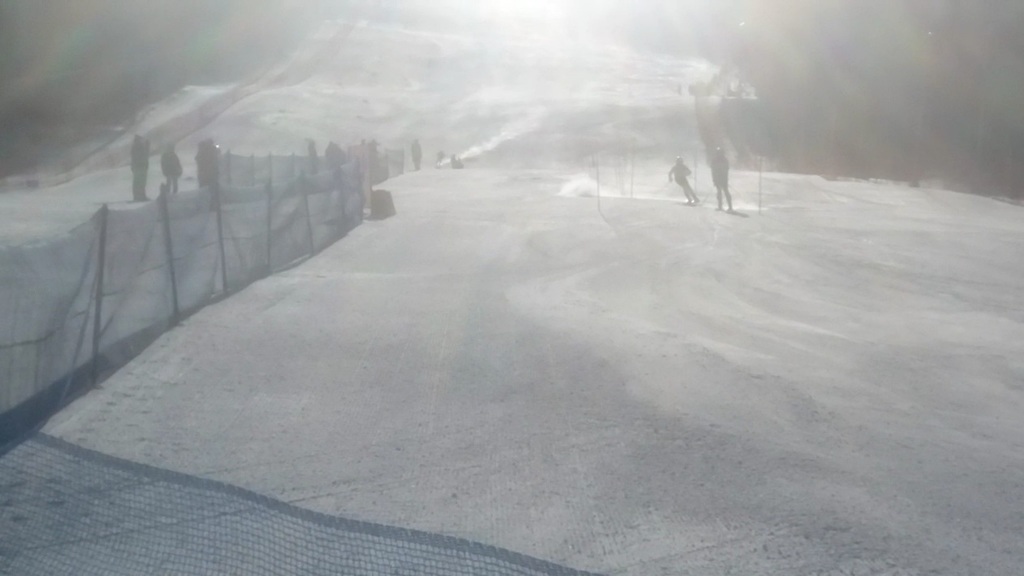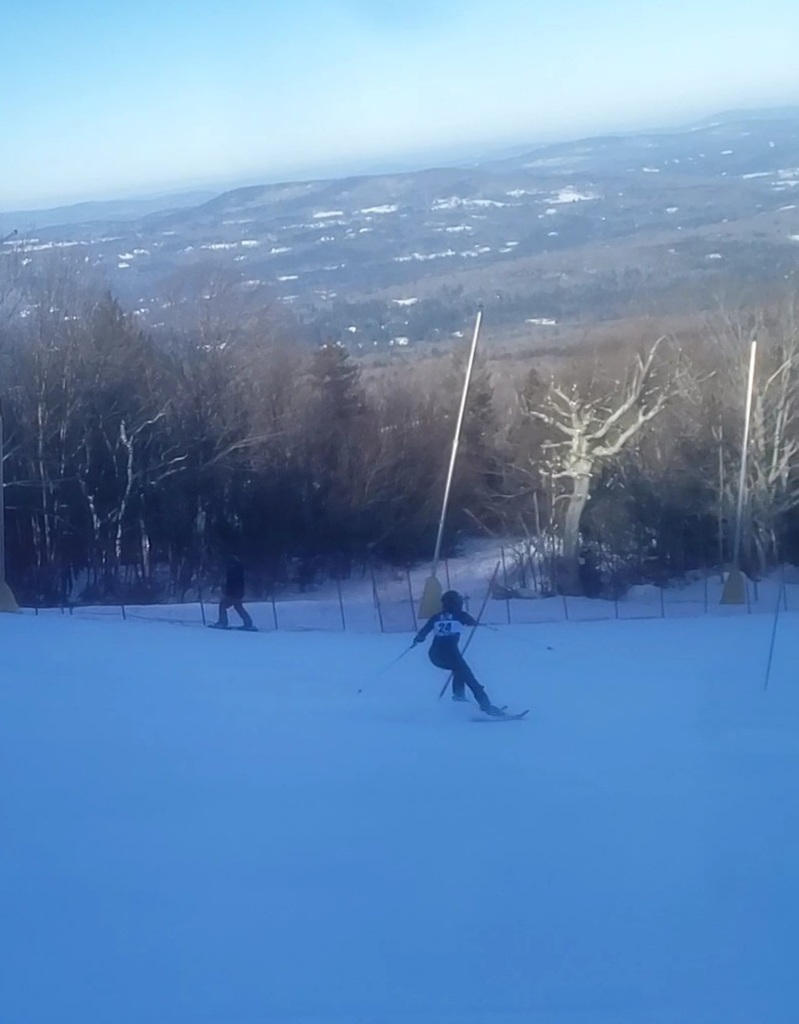 Middle School Athletic Schedule - Week Ending 01-29-22