Yesterday the Middle School Alpine Ski Team traveled to Cranmore for the first race of the season. The boys team placed 2nd in both GS and Slalom and the girls placed 5th in Slalom and 6th in GS.against Lin-Wood, Moultonborough, Kennet, Kingswood and Bartlett. The day began with 2 GS runs in the biting cold and wind. 5th grader Carrington Tetreault led the team with her 11th place finish (Run 1-37.59s, Run 2-36.16s). 7th grader Isabelle Antonucci placed 28th (47.97s, 47.11s) 5th graders Sasha Hamilton in 30th place (51.47s, 45.33s) and Esra Celikel in 32nd (53.26s, 49.81s) competed in their first races today. 7th grader Clare Smith placed 33rd (57.48s, 50.04s) and was almost 7.5 seconds faster on her second run. This group is loving learning to race! 1/20 Girls GS The boys GS team was on fire despite the cold, 8th graders Will Stone (4th overall, Run 1 - 31.76s, 31.09s) and Alex Harden (6th place, 32.21s, 32.44s) led the team to their 2nd place finish with the help of 8th grader Andrew Harden (14th place 35.35s, 34.60s),6th grader Oliver Brewer (15th place 34.98s, 35.09s) and 7th grader Dexter Lawson who is back with the team after a 2020 hiatus and finished 24th (40.06s, 39.48s) 1/20 Boys GS After lunch, the sun came out and again, Carrington Tetreault led the girls team in the Slalom with her 11th place overall finish (Run 1-51.91s, Run 2-55.35s) Isabelle Antonucci placed 22nd (1:04.57, 1:02.85) followed by Sasha Hamilton in 24th place (1:05.43, 1:03.57). Clare Smith finished in 28th place (1:09.11, 1:10.04) followed by Esra Celikel in 30th place (1:14.42, 1:18:15). 1/20 Girls Slalom The boys team was again led by Will Stone in 5th (40.61s, 43.11s) Brothers Alex Harden in 8th (43.05sm 43.60s) and Andrew Harden in 12th (52.94s, 47.66s) were close behind. Dexter Lawson had 2 solid runs placing 23rd (58.39s, 1:00.95) and Oliver Brewer finished 26th (1:13.06, 55.26s) despite mishaps in both runs. (1/20 Boys Slalom The Middle School will race Slalom on Monday 1/24 at 5pm at the Kanc Recreation Hill in Lincoln, NH. The entire course is visible from the base area and spectators are welcome! Keep up the good work everyone, Coaches Max and Amanda Garneau Girls Team Photos (both) Isabelle, Sasha, Clare, Carrington, Esra Whole Group photo Clare, Isabelle, Will, Alex, Dexter, Oliver, Carrington, Andrew, Sasha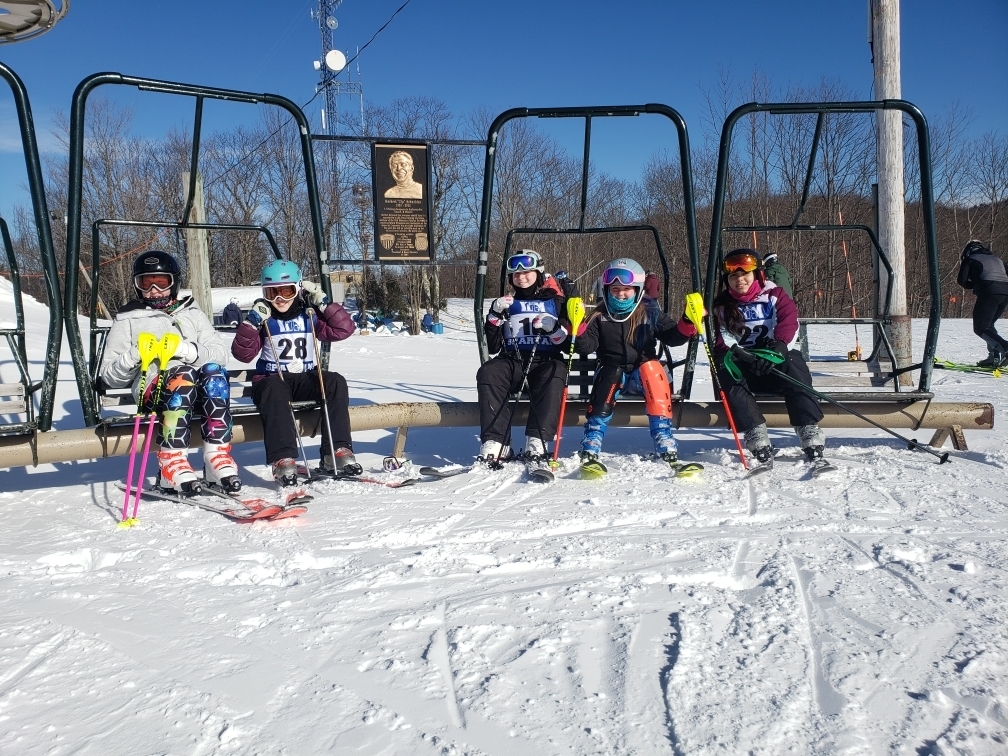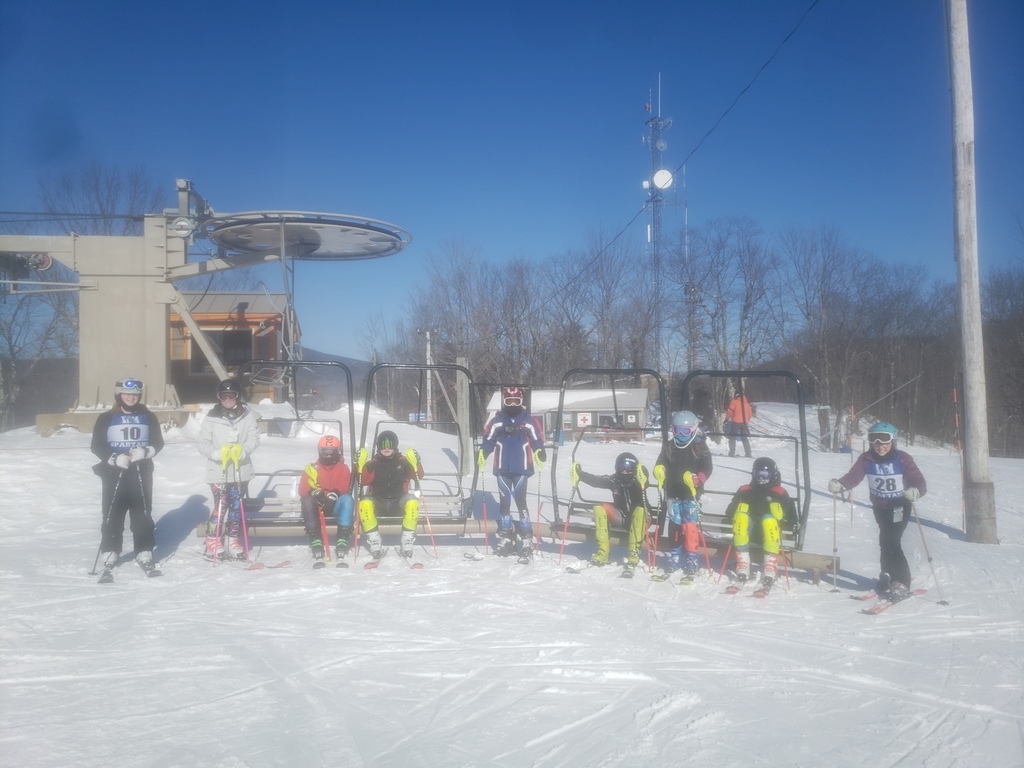 WES Daily Operations Update 1/20/22 Good Afternoon WES Staff & Families, Last week, due to rising student and staff absenteeism related to COVID we shifted to a full building, cohort operations plan and paused a number of activities. Based on our review of current data we are planning to reinstate some activities starting on Monday the 24th. These will include: *Walk to Read in grades K through six *Middle School CTE and Elective Unifieds *WMSI & Drama *Nordic, Alpine, Wrestling and all Girls and Boys Basketball. For the week of January 24th we will: *continue to serve breakfast in a Grab & Go format, *have lunches in classrooms, *maintain the modified UA rosters in grade one and two *pause our choruses and band, and *hold off on the building-based Winter Wednesday activities (Cannon will continue). As always, we will shift and flex as needed. We will review our status in the middle of next week with the hopes of bringing these latter pieces back during the week of the 31st. Please don't hesitate to call with any questions you have and thank you for your continued support.

Updated WES Lunch Menu - Monday, January 24th - Friday, January 28th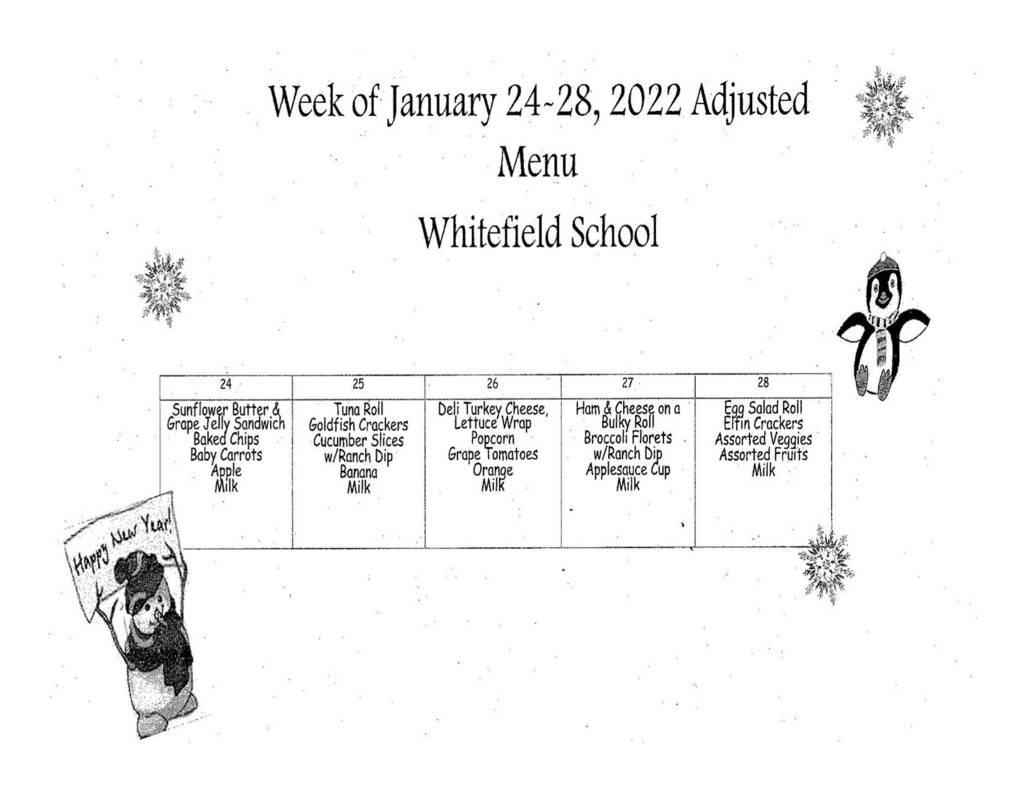 Save 15% Sitewide Free Shipping over $100 It may be cold outside, but you can stay warm with spirit wear while saving big on items like hoodies, jackets and blankets! Save 15% sitewide with code: BUNDLEUP. This offer will run through January 31st. There is also free shipping on all orders over $100. Shop Now.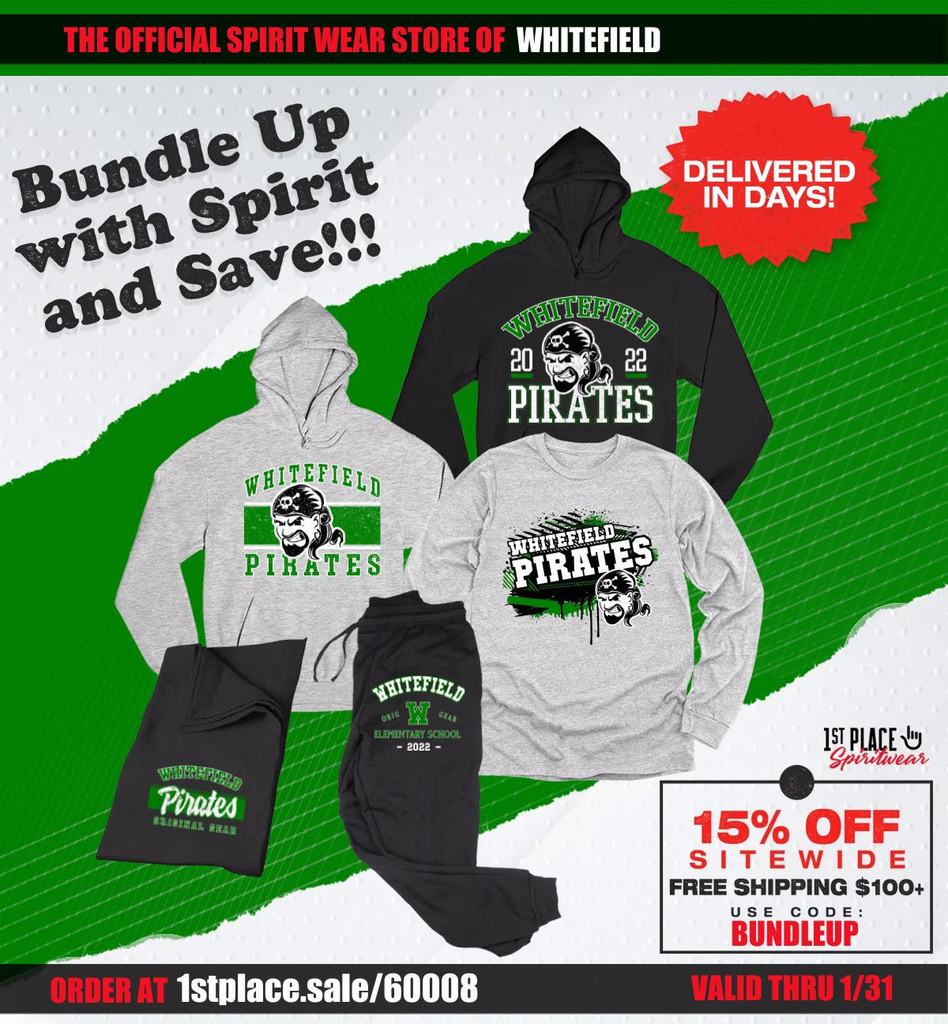 CANNON MOUNTAIN UPDATE: Cannon Mountain is currently on a wind hold. They have cancelled lessons for today, Wednesday, January 19th.

A Message From Mr. Cronin This is just a reminder about safety at drop off and pick up in front of the building. Families with younger children who take a bit more time to get in and out should use the lane closest to the sidewalk. Those that can enter and exit their vehicle independently should use the far lane. Always look for staff direction before exiting the vehicle and which way to get to the sidewalk. Please do not switch lanes unless directed by a staff member. Please stop at the stop signs and alternate vehicles as you pass the first sign and the road narrows to one lane. Slow your speed entering and exiting the grounds. Together we can ensure that the mornings and afternoons run safely. Thank you

A message from WW Berry Transportation - Bus Change Extended to Friday, January 21st.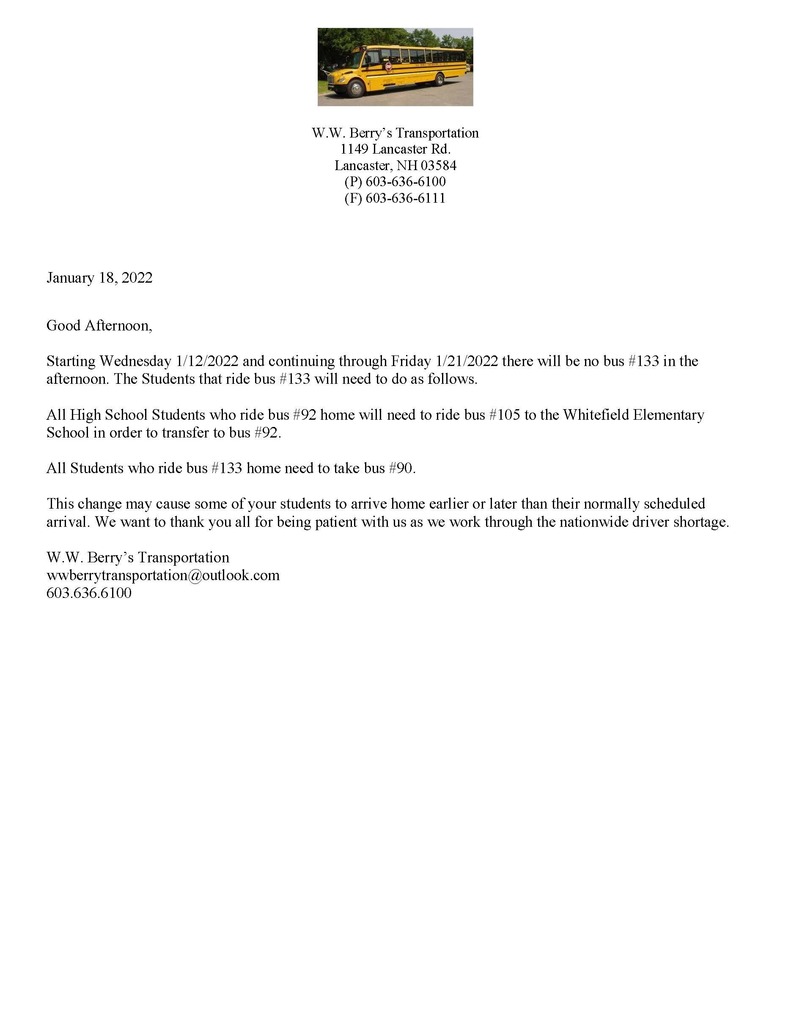 MS Athletic Schedule - Week Ending January 22nd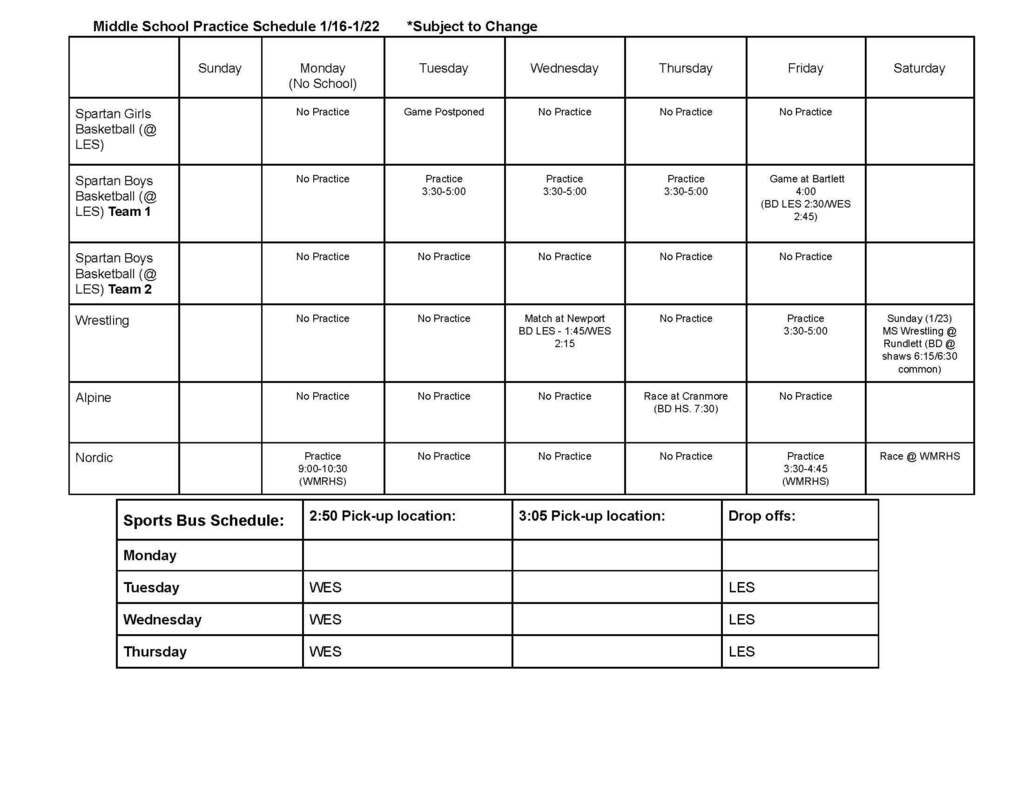 The WES PTO meeting has been cancelled for this evening. Please stay tuned for upcoming meeting announcements!

CIVIL RIGHTS DAY: There will be No School on Monday, January 17th due to Civil Rights Day.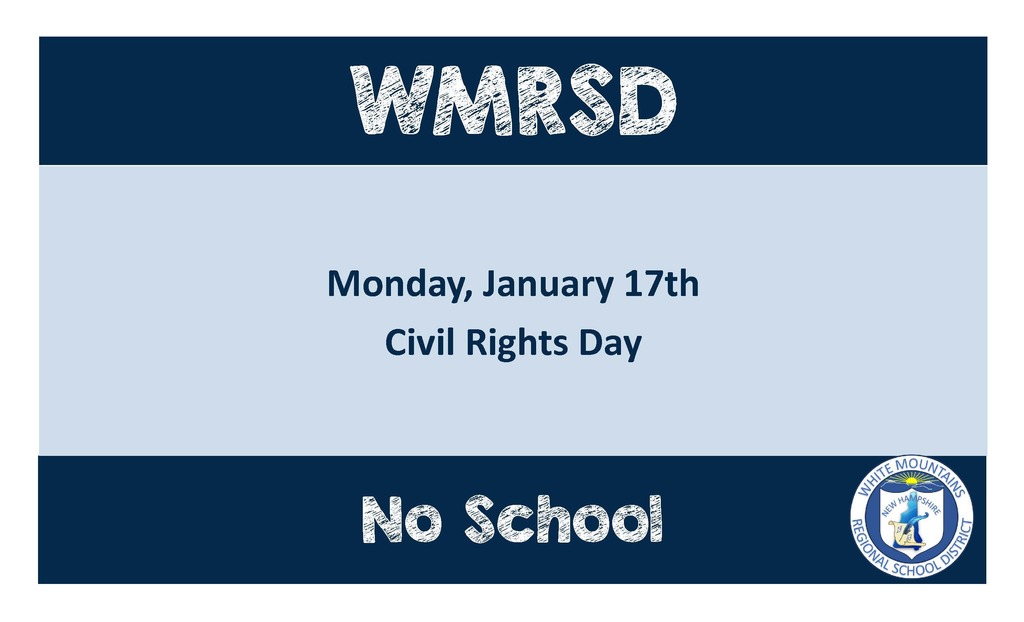 EARLY RELEASE DAY: There will be an Early Release Day on Friday, 1/14. Students will be dismissed at 11:45 and busses will run at 12:00pm.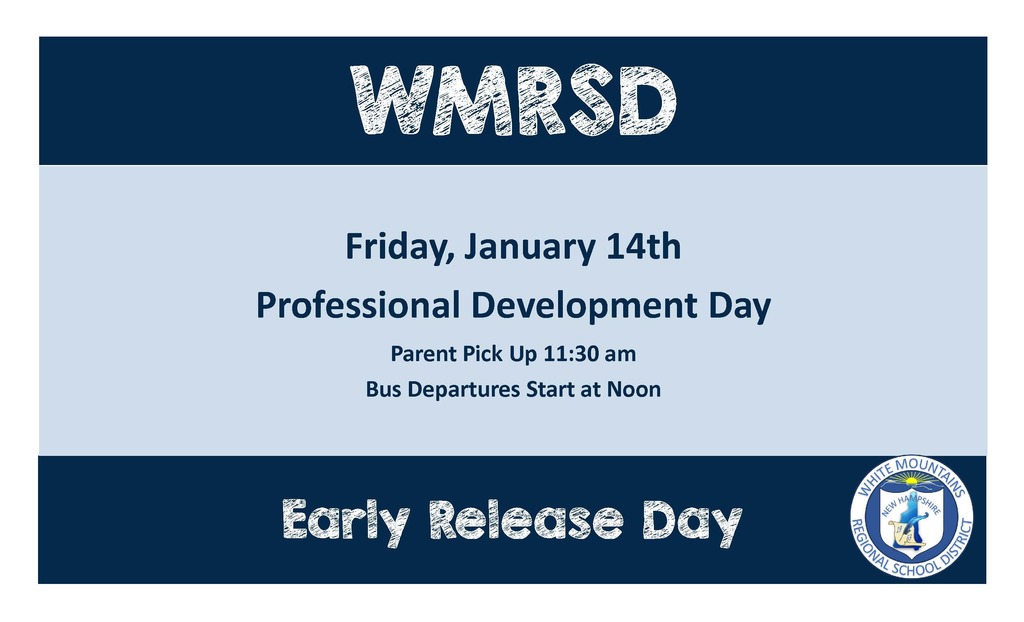 MS Athletic Update - At this time all practices and games for Girls MS basketball and Boys Team 2 basketball have been cancelled for the time being. Updates will be sent out later next week.

A Message From Mr. Cronin Good Evening WES Families, As you are aware we have seen a significant increase in student and staff absences related to COVID in the past week. This is impacting our daily operations and the reintroduction of some of our traditional practices. As a result of a number of positive clusters in classrooms across the building we will be implementing a shift back to classroom cohorting for ten calendar days beginning tomorrow, Thursday the 13th. This aligns to guidance by NH DHHS and protocols that have been used within the district throughout the year. This will look very similar to last year. Students will be offered Grab & Go Breakfast, have all of their instruction as a class rather than mixed age or class groupings, have lunch in their classrooms and have Unified Arts as a class rather than mixed groupings. We will need to pause a few activities until the 24th. This will include Walk to Read, WMSI on the 18th and Winter Wednesday activities on the 19th as well as middle school CTE trips until the 24th. This does not impact the athletic schedule or the drama club at this time. I'd like to assure the community that our mitigation practices involving masking, physical distancing, cleaning and testing have not changed in the last few weeks. We believe that we are experiencing the outcome of the Omicron variant in our community. We believe it is prudent to continue to follow DHHS guidance and appreciate your responsiveness and support over the last week and the ten days to come. I will follow up with you, as the 24th approaches, with an update. If you have any questions, please do not hesitate to reach out to me. Thank you, Mike Cronin, Principal

UPDATED MS Athletic Schedule - Week Ending 1-14-22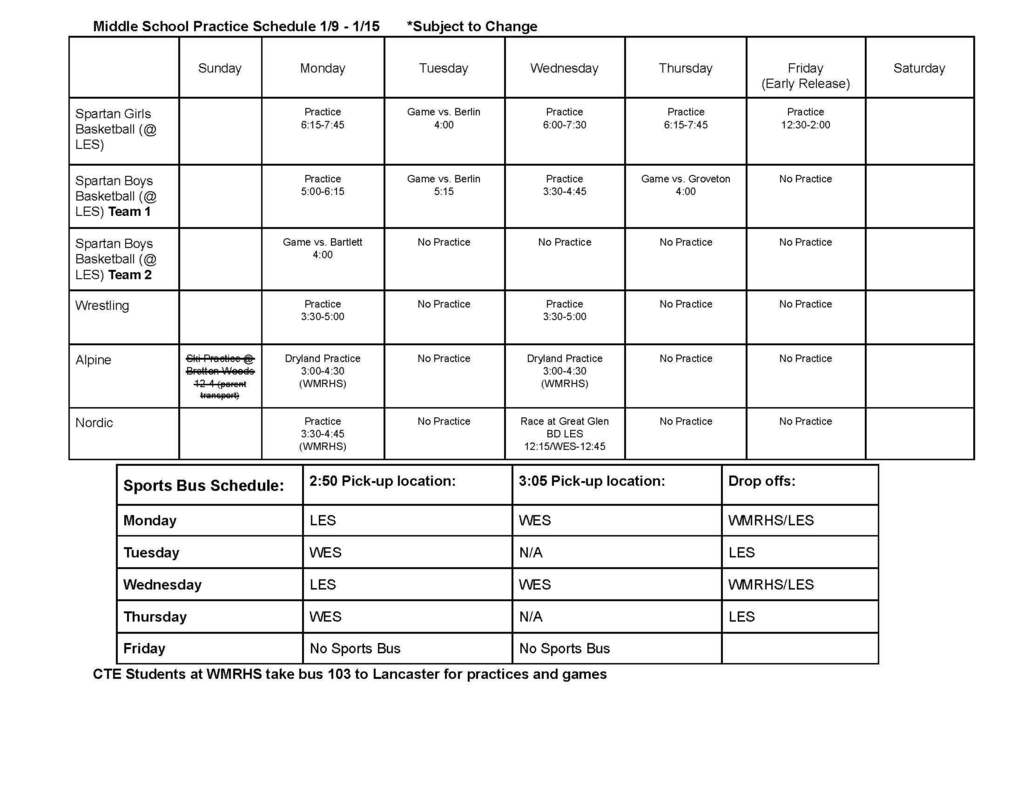 WES Chorus Program Update: The Junior and Senior Chorus programs are on a short pause until the week of January 24th. Thank you for your understanding and flexibility.

Winter Wednesday Program Update Wednesday, January 12, 2022 As you know we have seen an increase in absences in both students and staff since our return from Christmas vacation. In an attempt to keep students safely supervised and minimize COVID transmission where we can, we have made the difficult decision to postpone the start of the WES Winter Wednesday programming until next week, Wednesday January 19th. Skiers and riders that are part of the Cannon Mountain program will still eat lunch at 11:00 am in the cafeteria and will then be dismissed between 11:30 am and noon. Thank you for your continued support and vigilance as we continue to get back to our regular school programs.

A message from WW Berry Transportation January 11, 2022 Good Afternoon, Starting Wednesday 1/12/2022 and continuing until Tuesday 1/18/2022 there will be no bus #133 in the afternoon. The Students that ride bus #133 will need to do as follows. All High School Students who ride bus #92 home will need to ride bus #105 to the Whitefield Elementary School in order to transfer to bus #92. All Students who ride bus #133 home need to take bus #90. This change may cause some of your students to arrive home earlier or later than their normally scheduled arrival. We want to thank you all for being patient with us as we work through the nationwide driver shortage. W.W. Berry's Transportation
wwberrytransportation@outlook.com
603.636.6100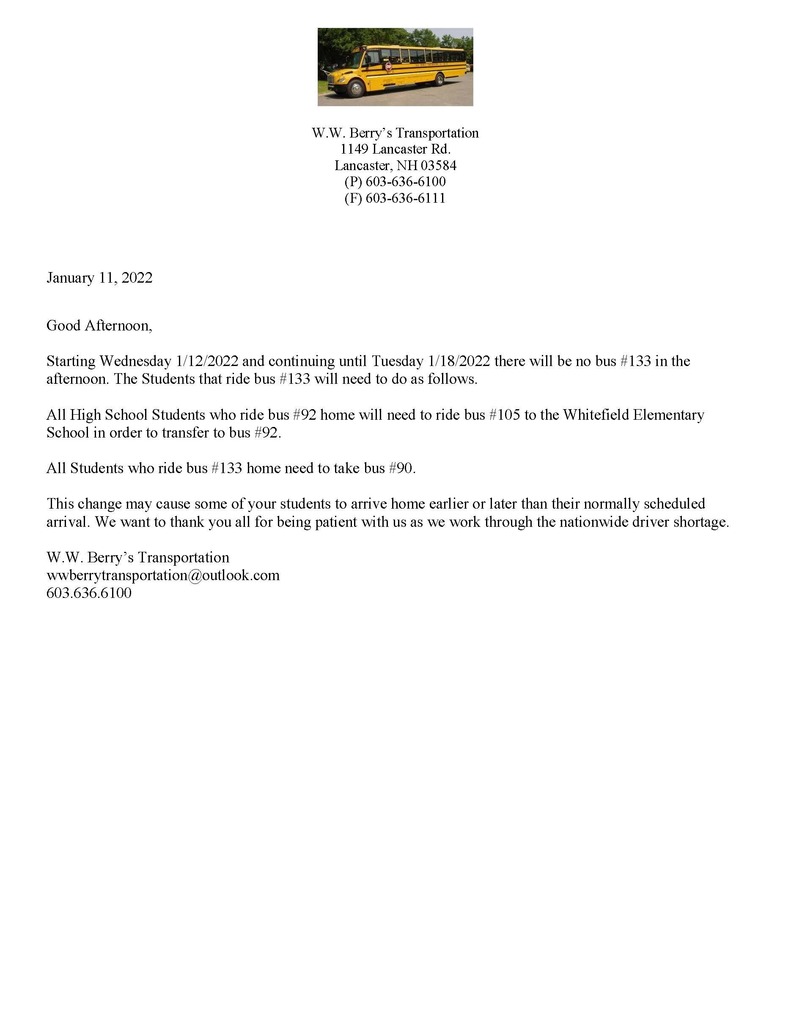 WES Spirit Wear Promotions! This is a big week, as we are running three simultaneous offers, including our first ever clearance sale! All three will end Sunday night, so be sure to order soon! Comfort Colors Clearance Sale Comfort Colors brand hoodies and crewnecks are on clearance ! You will see them listed at the top of your Shop All page. Colors and sizes are limited. All Tie-Dyes On Sale We've seen a great response to our tie-dye sale, and will extend it through this week as well. If you haven't yet make sure you get your groovy apparel now! Last Week for Free Shipping Free shipping on all orders has been a huge success, but it can't last forever. 🙂 Starting Monday, regular shipping costs will return, but there will still be free shipping on orders over $100. @1stPlaceSpiritwear Happy Shopping!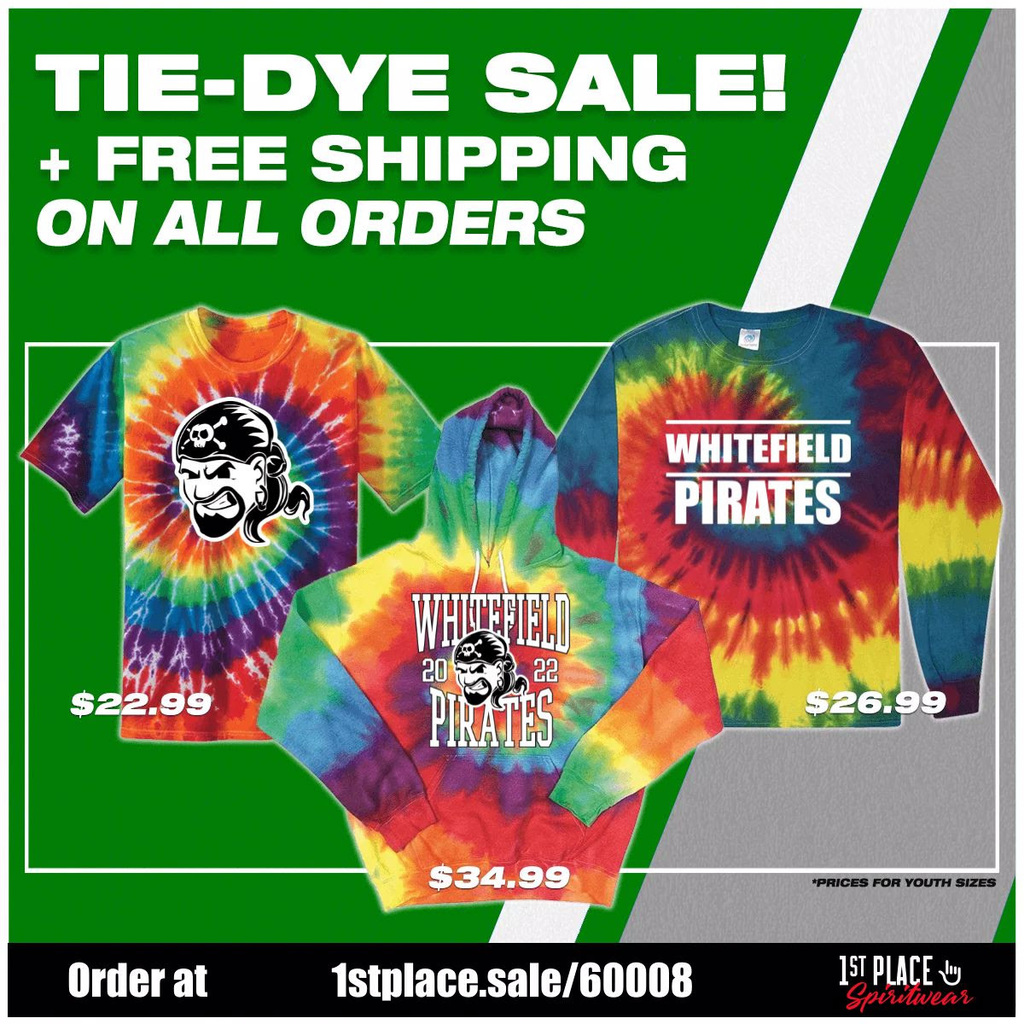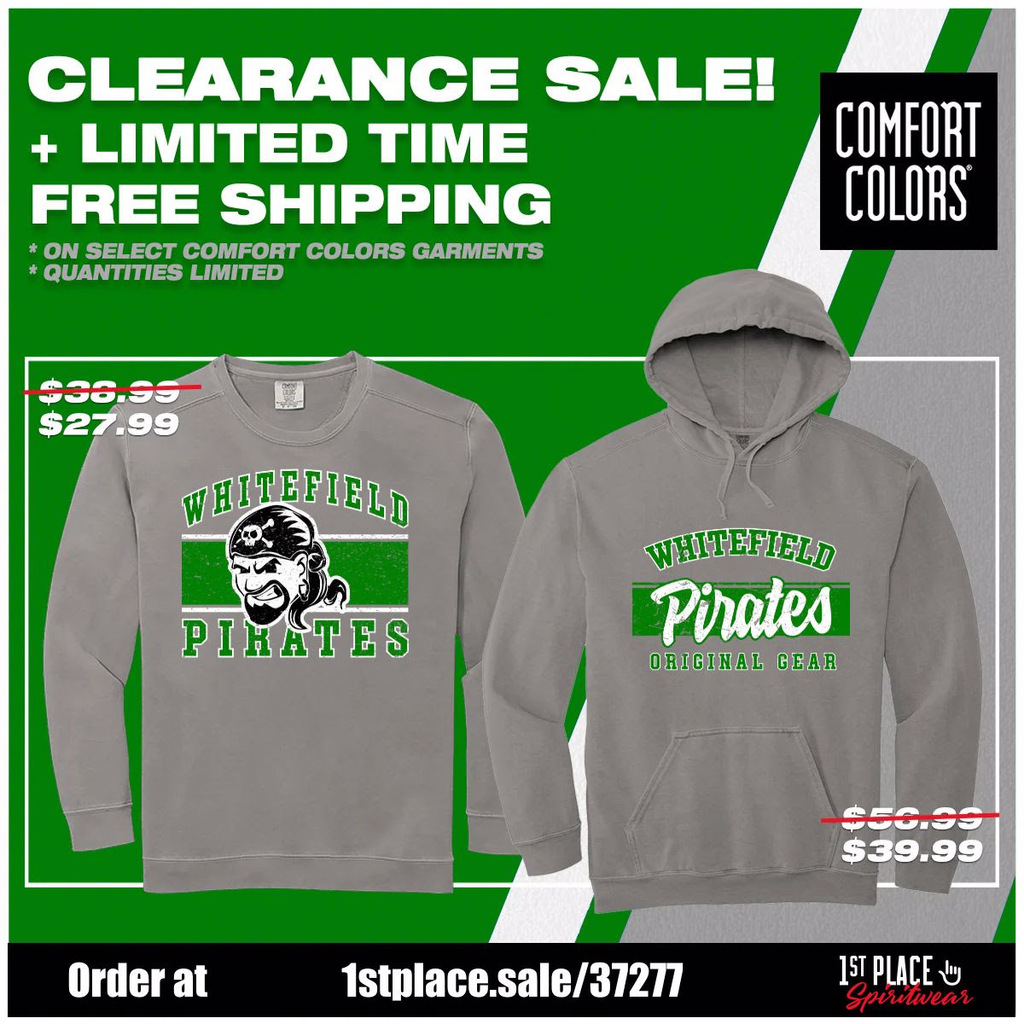 WES Chorus Update: There will be no Jr. Chorus today, January 11th. Please let the office know your child's after school plan. Thank you

A Message From Dr. Anastasia Dear WMRSD Families and Staff, As you know, there are wind chill warnings for tomorrow. I called the bus company this afternoon and they assured me that they will have the buses warmed up and ready to go at our normal pick up times. Please take extra precautions and have your children well dressed for the bus trips. All children will be inside for recess during the day. Thank you! Marion